**PLEASE NOTE:  There are multiple pages to the dashboard. See the bottom of the dashboard to click on each page.
PAGE #1: Confirmed, Probables, and Deaths – today, cumulative, by age range, and by gender
PAGE #2: Recovered, Total Cases by Date, Cumulative Cases by Date, Confirmed and Probables by Zip Code
PAGE #3: Total Cases by Date by County
PAGE #4: Confirmed Cases by Day by County Trendlines, Recovered by County
COVID-19 Data Dashboard – as of 6/2/2020
PLEASE NOTE: When updating the data dashboard, there is a slight delay for all the numbers to update. If the numbers look the same as yesterday, check back again – it could take a half hour or more from publishing the new data for it to show up. You can still see numbers on our home page
Mobile-Friendly View: We are working on displaying the data dashboard in a mobile-friendly way. Until then, try turning your phone sideways to landscape mode to view the dashboard. We apologize for any inconvenience.
Note on Confirmed cases: Confirmed cases only include people who test positive for COVID-19. UPDATED DAILY
Note on Probable cases: Probable cases are identified as close contacts of confirmed cases who develop symptoms; they may become confirmed cases if they test positive. They could also be identified as individuals who had all the symptoms of COVID-19 but were not tested. UPDATED DAILY
Note on Contact Tracing: Contact tracing represents the number of individuals DHD#10 identify as close contacts to positive COVID-19 cases who are being monitored but are not showing symptoms. Numbers shown include the total of those actively being monitored in each county, those that have completed the monitoring process, and a cumulative total in each county. UPDATED WEEKLY
Note on Recoveries

: Recovered is defined as the number of persons with a confirmed COVID-19 diagnosis who are alive 30 days after date of confirmation.

 

The number of persons recovered on April 20, 2020 represents COVID-19 positive individuals with a confirmed date on or prior to March 20, 2020. UPDATED DAILY

Note on Zip Codes

 (Page 2 of Dashboard): Zip codes with 1 to less than 5 cases are noted by "<5" to protect potentially identifiable information. Please note that some zip codes cross over counties, so you may see a zip code that typically falls in one county but is listed in another as well. For example 49660 is a Manistee County zip code, but is also listed in Mason County because some residents there live on the border of both counties. We also have some zip codes that are listed in one of our counties that are typically in Kent County. UPDATED DAILY

Note on Case Counts:

 Use caution when interpreting case count information. The true number of COVID-19 cases is likely higher than we know. DHD#10 numbers may not match state numbers exactly due to timing of updates and location where a confirmed case resides. For example, if a confirmed case resides in another state but traveled to one of our counties, became sick, was tested here, and recuperated at a residence in one of our counties, the state would count that individual in the "Other States" column but DHD#10 would put the count in the county where the individual was tested and is recuperating. Given the national shortage of testing supplies, tests are only given to people who meet priority criteria where there are testing supplies available.

Some people who have COVID-19 will be asymptomatic (not show symptoms) and therefore may not be tested.
Laboratories may be backlogged with tests, so results can take days. In some cases, sick individuals may recover before their case is added to local, state, and national counts.
Source: Michigan Disease Surveillance System and Vital Records
Below is a heat map of confirmed and probable positive COVID-19 cases within the District Health Department #10 region. Darker areas, such as red and orange, are associated with higher rates of positive cases while lighter areas, such as green and yellow are associated with lower rates of positive cases. This map shows rates per 10,000 people so if an area is red, it does not mean there are 243.9 positive cases in that area, but rather 2.439% of the population within that area has tested positive for COVID-19. Areas that are not highlighted with any color do not currently have positive cases. 
ANNOUNCEMENT
On June 1, Governor Whitmer lifted the Stay At Home Order allowing for retailers to open as of June 4 and restaurants, bars, public swimming pools, and day camps for kids can open as of June 8. Michiganders must continue to wear face coverings when in enclosed public spaces and should continue to take all reasonable precautions to protect themselves, their co-workers, their loved ones, and their communities. Indoor social gatherings and events of more than 10 people are prohibited. Outdoor social gatherings and events are permitted so long as people maintain six feet of distance from one another and the assemblage consists of no more than 100 people.
The following businesses and activities must still remained closed: indoor theaters, cinemas, performance venues, indoor gyms, fitness centers, recreation centers, sports facilities, exercise facilities, exercise studios, hair salons, nail salons, tanning salons, traditional spas, facilities that provide massages, tattoos, body art, and piercing services, casinos, racetracks, and millionaire parties licensed by Michigan Gaming Control Board, and indoor or outdoor services or facilities that involve close contact of persons such as amusement parks, arcades, bingo halls, bowling alleys, indoor climbing facilities, indoor dance areas, skating rinks, trampoline parks, and other similar recreational or entertainment facilities.
COVID-19 testing:
Contact your medical provider or call the
hotline for your hospital system:
888-535-6136 | MDHHS Patient COVID-19 Hotline
231-935-0951 | Munson Hotline
833-559-0659 | Spectrum Hotline
833-247-1258 | Mercy Health Michigan Hotline
616-685-2683 | Mercy Health Saint Mary's-Grand Rapids Hotline
231-642-5292 |

Northwest Michigan Health Services COVID-19 Testing Hotline
A NOTE ON TEST RESULTS:
DHD#10 only contacts individuals if their test results come back positive. All other results are followed up by the medical care providers who ordered the tests.

If you haven't been contacted by DHD#10 to inform you that you tested positive, please contact your medical care provider for test results

.
Prevention Methods:
Clean hands often. Scrub with soap for at least 20 seconds. Use hand sanitizer if soap and water is not available.
Avoid close contact with sick people.
Stay home when you are sick, except to get medical care.
Cover your cough or sneeze with a tissue, then throw tissue away and wash hands immediately.
Wear a face mask when going out in public.
Clean and disinfect surfaces frequently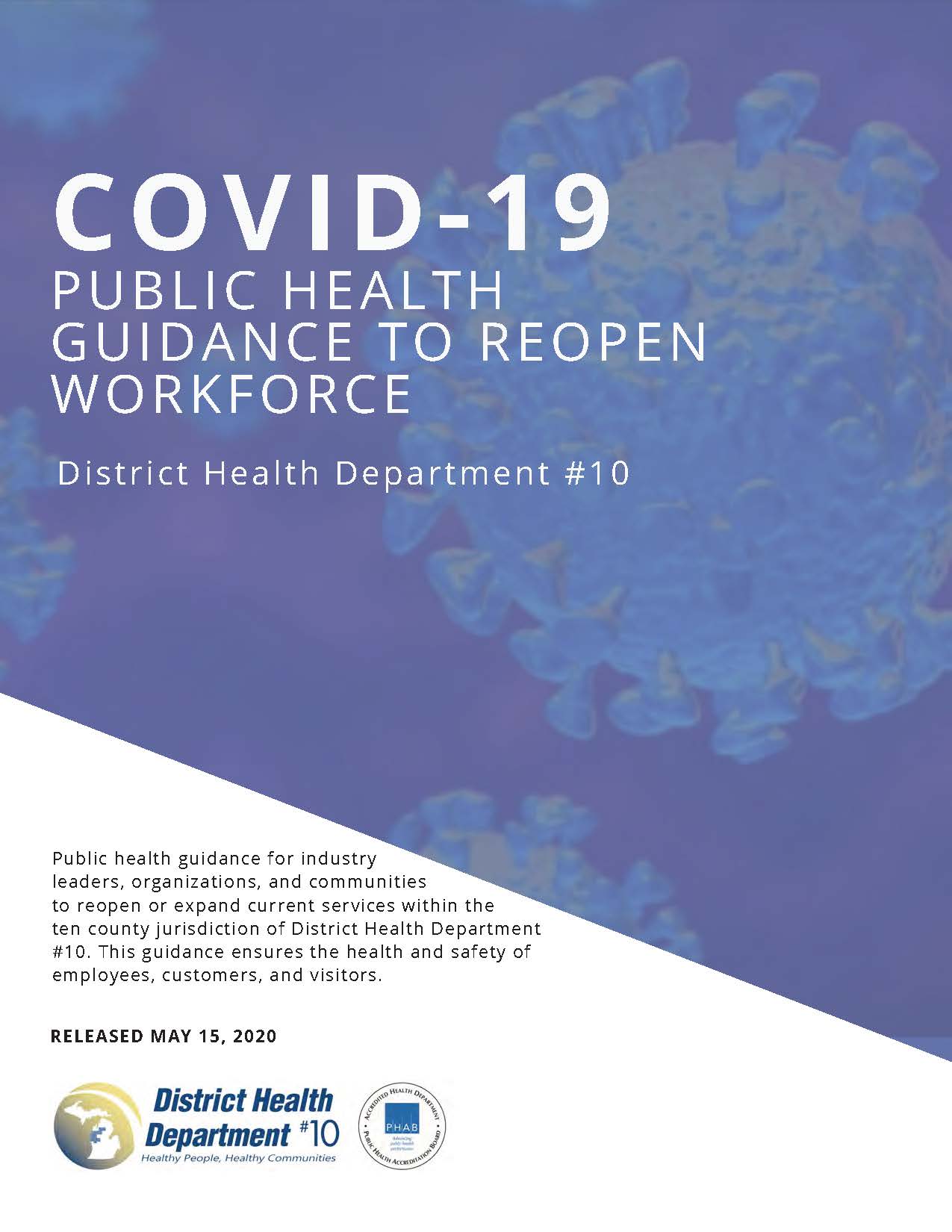 DHD#10 GUIDANCE
MICHIGAN GUIDANCE
UNITED STATES GUIDANCE
Data on the number of cases changes daily. Browse through the links below for current information:
For more information specifically about COVID-19, its symptoms, the spread, and how you can prevent the disease, click here.
All District Health Department #10 offices are closed to the public through June 12, pending the Governor's decision to lift her extended executive order. We are providing emergency services by appointment only and signage is posted at each building to direct those with appointments on what to do when they arrive. Please contact your local DHD#10 office to schedule an appointment.