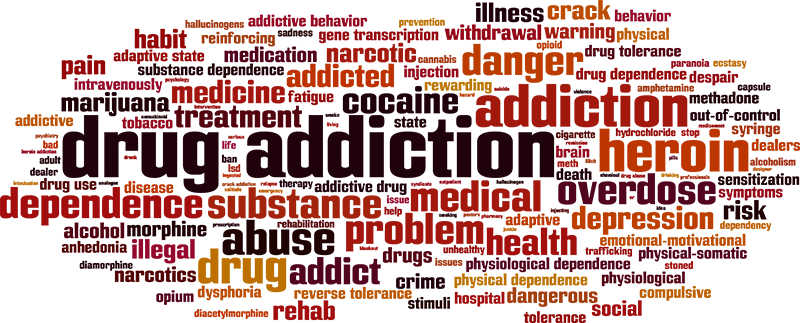 If you or someone you know is struggling with a drug or alcohol problem, help is available! You have options, including counselors, doctors, and in-patient treatment centers. Reaching out for help is the most important first step.
Signs of a Substance Use Problem or Addiction
Changes in appetite or sleep patterns
Deterioration of personal hygiene or appearance
Frequent, unexplained bruises or other injuries
Skipping class or declining grades
Sudden change in relationships and friends
Missing money / stealing
Sudden mood changes – irritability or outbursts
Appearing withdrawn, anxious or paranoid
Resources
Facts and Stats https://www.justthinktwice.gov/facts
TIPS FOR PARENTS – TEEN PARTIES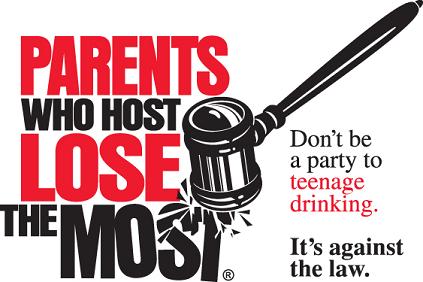 Empty attachment or post type not equal 'attachment'
Empty attachment or post type not equal 'attachment'
Other Quick Links
Get Help with Substance Use, Problem Gambling, or Mental Health
Need Help Talking to Your Child About Drug Prevention
Drug Free Northern Michigan
The Medicine Abuse Project/Partnership for Drug-Free Kids
– Parent Drug Guide
– Prevention Tips for Every Age
– How to Address Underage Drinking
– How to Talk About Marijuana
– All About the Teen Years
– Tips for Talking and What to Say to Prevent Medicine Abuse
– How Does Prescription Medicine Abuse Lead to Heroin Use?
Talk. They Hear You.
Get Smart About Drugs
National Institute of Drug Abuse (NIDA)


---
Prescription Drugs
---
Marijuana
Marijuana Fact Sheet

Marijuana Information

Preventing Marijuana Use Among Youth and Young Adults

The Negative Health Effects of Marijuana Use
Marijuana Concentrates
What You Should Know About Marijuana Concentrates/Honey Butane Oil

The Facts About Marijuana Concentrates
Publications (Marijuana)
April 14, 2017 Regularly Using Marijuana as a Teen Slows Brain Development

April 26, 2017 Teens Tend to Think Marijuana Use is No Big Deal, But They're Wrong
---
Synthetic Drugs/Emerging Drugs
About Synthetic Drugs

DEA Consumer Alert

K2/Synthetic Marijuana K2/Spice Fact Sheet

Bath Salts Fact Sheet

Flakka Fact Sheet

Pink/U-47700 Fact Sheet

Carfentanil Fact Sheet

Gray Death Fact Sheet
---
Heroin
Heroin Fact Sheet
---
Cocaine
Cocaine Fact Sheet
---
Inhalants
Inhalant Fact Sheet
---
Methamphetamine
Methamphetamine Fact Sheet
---
Ecstasy/MDMA
Ecstasy/MDMA Fact Sheet
---
Amphetamines
Amphetamines Fact Sheet
---
Take Back Your Meds
Disposing of your medicines at a local pharmacy or law enforcement office can help prevent prescription drug abuse. By properly disposing unused, unwanted, or expired medications you can ensure medicines will not be stolen from the garbage, will not enter our environment, and prevent abuse and overdoses at home.
Prescription Drug Disposal Locations
---
Prime for Life
Prime for Life is a highly effective program designed to help youth and young adults reduce high risk choices in regards to drugs and alcohol. This program addresses participants current beliefs, attitudes, perceptions of risk, and motivators. This program is available at no cost to Mason and Oceana County residents ages 12-25.
Program Participants:
Age 12-25
Suspected of using drugs or alcohol
Making high risk choices that could lead to drug use
First time DUI or MIP charge
Experiencing other legal issues related to drug use
For more information, contact the following DHD#10 Health Educators:
Mason – Katie Miller (231) 316-8567
Oceana – Kortni Garcia (231) 902-8539
---
Mobilizing Michigan: Protecting Our Kids from Marijuana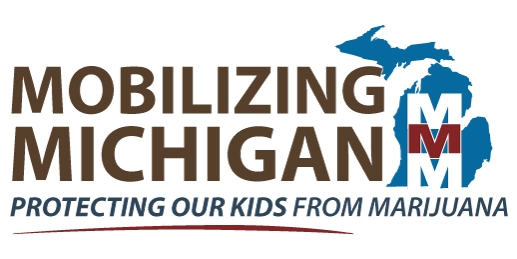 Mobilizing Michigan is a research-based campaign to educate all sectors of the community about the dangers of youth marijuana use.
There's much talk about medical marijuana and legalization of marijuana for "recreational" use, however, there seems to be very little focus on the many negative consequences of youth use.
Let's start the conversation in our communities.
To learn more about Mobilizing Michigan: Protecting Our Kids From Marijuana or to schedule an educational presentation in Wexford or Missaukee Counties, contact Angie Gullekson at 231-876-3813 or agullekson@dhd10.org.
School Personnel
Below is an infographic that you may find informative and useful.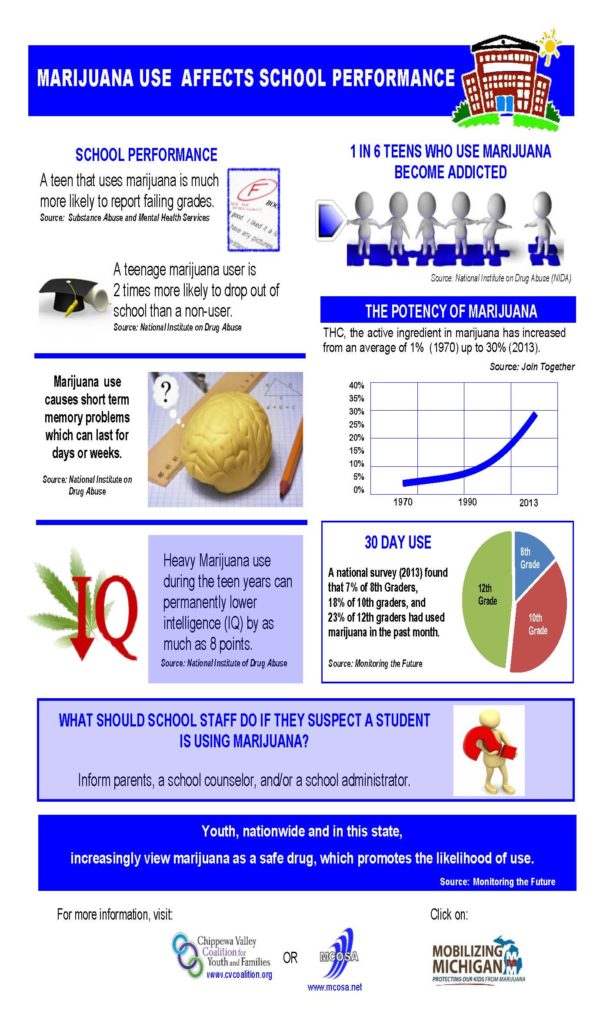 Parents/Grandparents
Below are some resources to help you learn more about youth and marijuana.
Let's Look at the Research
Parents – Talk to Your Children About Marijuana
The Truth About Marijuana and School Achievement
Clearing the Smoke About Marijuana