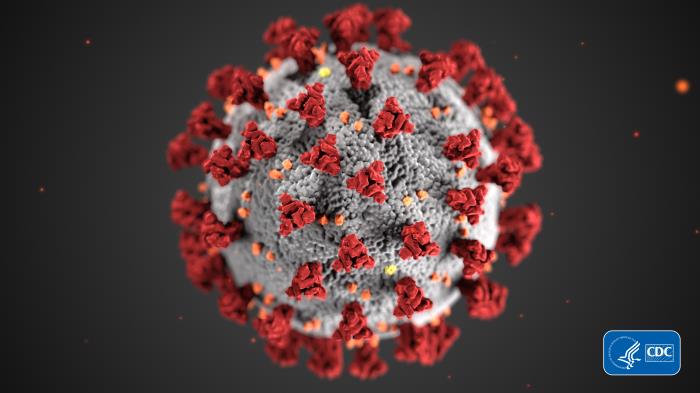 What is COVID-19?
Coronaviruses are a large family of viruses that include: the common cold, SARS and MERS
COVID-19 is the name of a new respiratory coronavirus that has been making people sick
COVID-19 is different than the flu virus

It only began circulating in humans in December of 2019
Why the concern?
COVID-19 is a new virus that has never been seen before

It has the potential to cause severe illness and pneumonia

It is unknown how many people will get sick or how severe the illness will be
A person may be infectious before becoming symptomatic (showing symptoms) and can pass the virus to others without knowing
There is potential for the U.S. healthcare system to become overwhelmed with patients

There may not be enough medical supplies/facilities to care for everyone infected
What are the symptoms?
COVID-19 symptoms are flu like:

Fever
Cough
Difficulty breathing or shortness of breath

COVID-19 illnesses have ranged from mild symptoms to severe illness and even death in some cases
Symptoms may appear anywhere from 2-14 days after exposure
Who does it affect?
Anyone and everyone!
COVID-19 doesn't target people from specific populations, ethnicity, or racial backgrounds
Some people are at a higher risk of getting very sick from COVID-19:

Older adults
Those with serious medical conditions, like heart disease, diabetes and lung disease
How does it spread?
Person-to-person

An infected person coughs or sneezes releasing respiratory droplets into the air
Between people who are in close contact, within about six-feet of an ill person
When someone touches a surface or object that has the virus on it, then touches their mouth, nose, or eyes with unwashed hands

Based on the patterns of other coronaviruses- it has been suggested COVID-19 can survive on surfaces from hours to weeks (depending on humidity and temperature)
How many people have COVID-19?
Data on the number of cases changes every day. Click on the links below for current information:
What do you do if you have symptoms?
STAY HOME
Call your healthcare provider immediately if you develop symptoms AND have been in close contact with a person known to have COVID-19, or if you've recently traveled to an area with widespread or ongoing community spread

If you do not have a healthcare provider, call your local urgent care or emergency room. DO NOT SHOW UP

Separate yourself from people and pets in your home
Wear a face mask when you must be around people
Monitor your symptoms, take your temperature regularly and note any changes
How do you prevent the spread of COVID-19?
Wash your hands often for 20 seconds under soap and water
Use hand sanitizers with 60% alcohol between hand washing or if soap and water aren't available
Clean and disinfect surfaces regularly

Use 1/3 cup of bleach per gallon of water OR 4 teaspoons of bleach per quart of water
Alcohol solutions with at least 70% alcohol

Take extra measures to reduce the risk of being exposed to the virus by practicing SOCIAL DISTANCING

stay home as much as possible
avoid close contact (within 6 feet) of others
How is Public Health responding?
Airports are monitoring travelers and may ask travelers to quarantine based on their travel history
State and local Public Health Officials are putting orders in place to prevent COVID-19 spread

Cancelling/postponing public gatherings
Temporarily closing restaurants, bars, theaters, schools etc
Quarantining or Isolating individuals or groups
Questions? Email us at info@dhd10.org or call the state hotline at: 1-888-535-6136.
For more information or facts about COVID-19, click here
Quick Links
DHD#10 jurisdiction data
Michigan data
National data
World data