Did you notice? We sure hope so! DHD#10 has launched a brand new website! After almost a year of hard work, DHD#10 is excited about this fresh new look. This modern website is designed with your needs in mind and aims to provide user-friendly navigation. Let's face it- your local DHD#10 office has A LOT to offer but we don't want that to be overwhelming. It is our hope that this new website, helps you to locate the information you need quick and easy.
Check out some of our favorite features:
1. THE BLOG
By clicking on this post, you landed yourself in our new blog section.  The blog is a chance for you to get to know DHD#10 better. DHD#10 staff will write and post blogs to give you an inside look at our programs and services.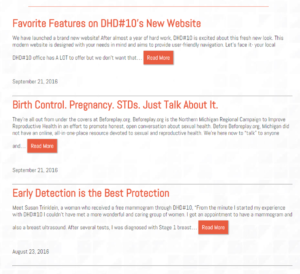 2. LOCATIONS
Now linked to Google Maps, it is easier to find your local DHD#10 office and our satellite offices like WIC Clinics and Adolescent Health Centers. With over 17 locations (and growing), we don't want you getting lost.

3. I NEED TO FUNCTION
This function serves as a quick link to DHD#10 clients most common programs and services. Found in the middle of the homepage, its a great starting point when exploring our new website. It also is included on internal pages, so it is always there when you need it.

4. POPULATION BUTTONS
Last but not least, are the new population buttons. These were made just for you (our clients, community partners, etc). You may find that you fall into more than one and that's okay. Information inside of the population buttons was created to be most useful for each individual population. If you don't find what you are looking for you can always explore the Program and Service List at the top of the homepage.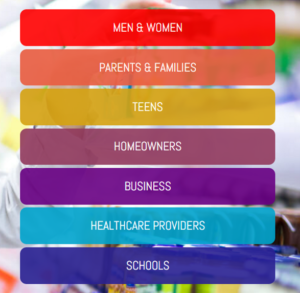 As both DHD#10 staff and clients both get used to a new website design, we appreciate any and all feedback that will help us to keep improving! Feel free to share your thoughts here.