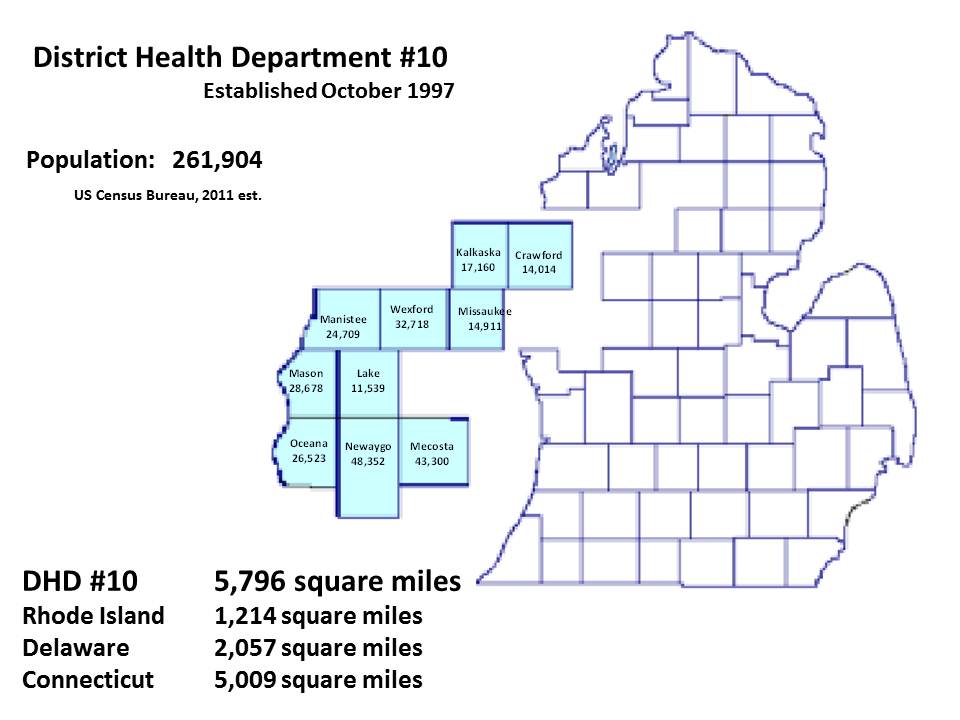 District Health Department #10 was formed October 1, 1997, through the consolidation of four health departments into one organization. DHD#10 is the largest geographical health department in Michigan and is the tenth largest based upon population.
Our Mission
To promote and enhance the health of our communities and environment through protection, prevention, and intervention.
Our Values
Integrity
Responsibility
Accountability
Customer Service
Positive Attitude
Communication
Our Vision
Healthy People, Healthy Communities
What does public health do for you?
Prevents epidemics and the spread of disease
Protects against environmental hazards
Prevents injuries
Promotes and encourages healthy behaviors
Responds to disasters and assists communities in recovery
Assures the quality and accessibility of health services
10 Essential Public Health Services 
Monitor health status to identify community health problems.
Diagnose and investigate health problems and health hazards in the community.
Inform, educate, and empower people about health issues.
Mobilize community partnerships to identify and solve health problems.
Develop policies and plans that support individual and community health efforts.
Enforce laws and regulations that protect health and ensure safety.
Link people to needed personal health services and assure the provision of health care when otherwise unavailable.
Assure a competent public health and personal health care workforce.
Evaluate effectiveness, accessibility, and quality of personal and population-based health services.
Research for new insights and innovative solutions to health problems.