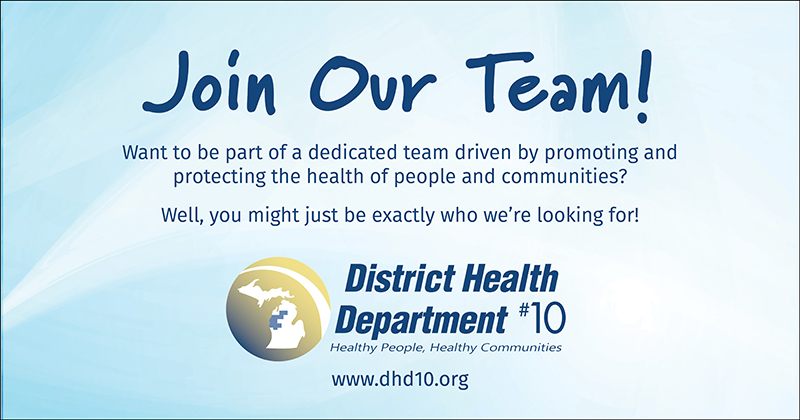 Please submit your resume and cover letter online using the form below. Any questions can be directed to Human Resources:
Julie Hilkowski, Human Resource Coordinator
521 Cobb Street
Cadillac, MI 49601
E-Mail: jhilkowski@dhd10.org
Phone: (231) 876-3815
Fax: (231) 775-4731
---
Current Openings
Registered Nurse – Children's Special Health Care Services – Lake or Newaygo
Registered Nurse – Maternal Infant Health Program – Manistee
Licensed Social Worker – Lake, Mecosta, or Newaygo
School Health Counselor – Mason
School Health Counselor – Missaukee or Wexford
Account Clerk – Accounts Payable/Accounts Receivable – Newaygo
Account Clerk – Purchasing – Newaygo
Apply
---
Internship Opportunities
District Health Department #10 (DHD#10) is pleased to offer internship opportunities for students interested in gaining public health or other real-world experience.
Application Deadlines
February 22 for summer internships
April 22 for fall internships
November 1 for winter/spring internships
Application Checklist
Applicant is registered as a student receiving internship credit through a college or university
Resume
Cover Letter (include which internship opportunity you are applying for)
Copy of college/university preceptor manual (or any document from the academic institution describing the requirements of the internship host site)
A completed application
Please send all application documents to our intern coordinator at internship@dhd10.org. If you are applying past the deadline, please contact the internship coordinator prior to completing the application.
Other Required Documents
Upon placement as intern, students will need to complete background check forms, TB test and be compliant with DHD#10 vaccination policies.  Students must provide evidence of compliance with these requirements by the orientation date.
All internships are UNPAID, unless otherwise noted. Any questions about the application process should be directed to the DHD#10 intern coordinator at internship@dhd10.org.
---
Equal Employment
At District Health Department # 10 our goal is to recruit, hire, and maintain a diverse workforce. Equal employment opportunity is good business as well as being the law and applies to all areas of employment, including recruitment, selection, hiring, training, transfer, promotion, termination, compensation, and benefits. As an equal opportunity employer, District Health Department # 10 does not discriminate in its employment decisions on the basis of race, religion, color, national origin, gender, age, military status, disability, sexual orientation, family responsibilities or on any other basis that would be in violation of any applicable federal, state, or local law. District Health Department # 10 will make reasonable accommodations for qualified individuals with known disabilities unless doing so would result in an undue hardship, safety, and/or health risk.