PLEASE NOTE:

If there are no dates available below in the online schedule, please call 888-217-3904.

There are more appointments available than what is shown online.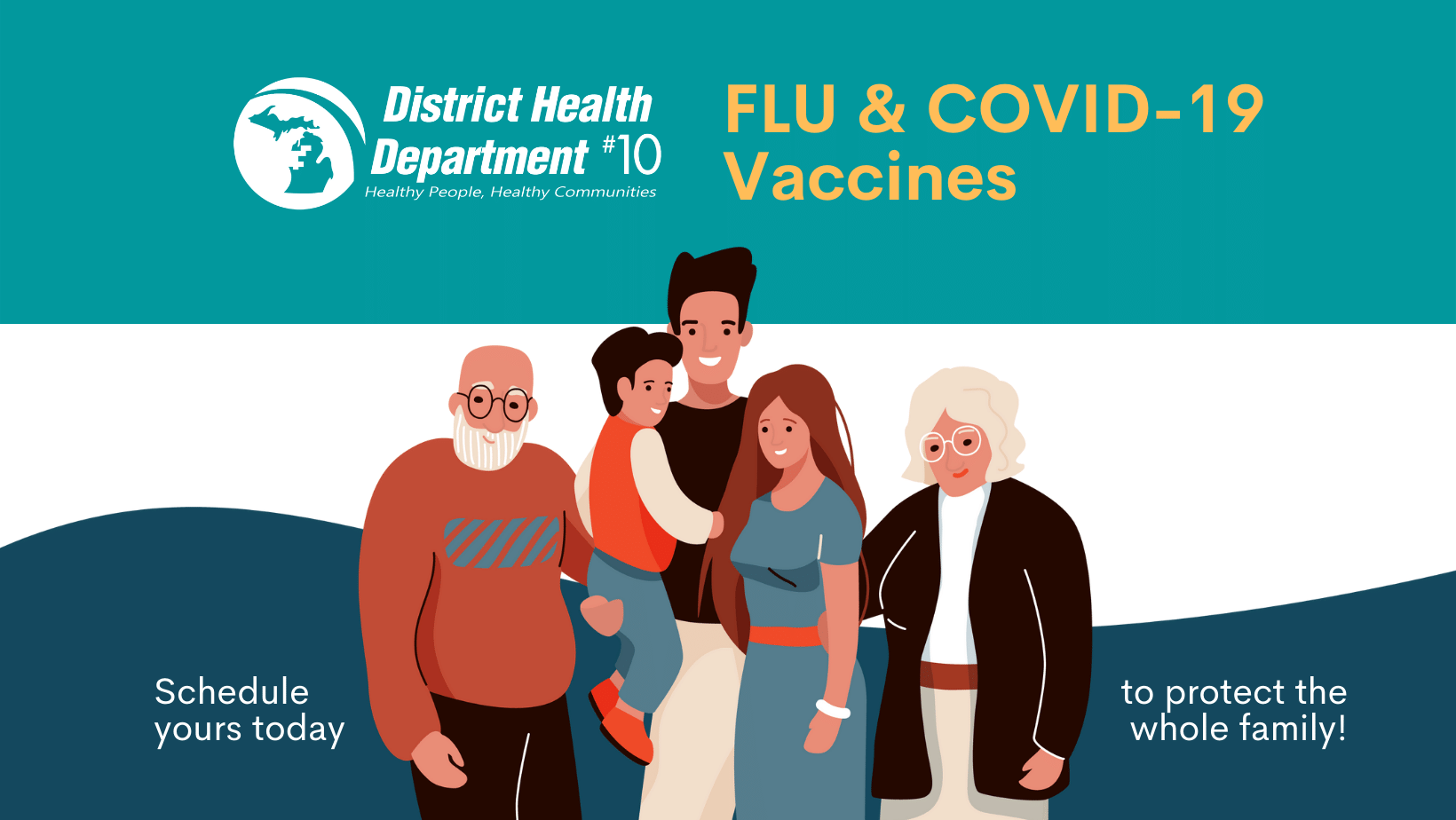 You can now schedule your FLU SHOT and your COVID-19 VACCINE online below. Just click on the yellow button for your county and complete the information.
ATTENTION REGARDING COVID-19 VACCINE FOR CHILDREN 5-11
:
The Pfizer vaccine is now authorized for children 5 to 11 years old, and there is no cost to individuals. DHD#10 will begin offering COVID-19 vaccine for children 5 years and older starting Monday, November 8 at our vaccine clinics and by appointment. Please remember that COVID-19 vaccine is widely available locally, and parents or guardians should go wherever works best for their family.
Parents can schedule appointments for their children at www.dhd10.org/schedule. COVID-19 vaccines for children are expected to be widely available. Appointments allow for more accurate timing and appropriate spacing during indoor clinics. A parent or guardian must be present for vaccinating minors.
Vaccination is the best way to protect against COVID-19. COVID-19 vaccines have been rigorously tested for safety and medical experts overwhelmingly support vaccination. Though rates of severe illness have been lower in children compared to adults, children can get still infected, become ill, and spread illness to others. Vaccinating children ages 5-11 will help lower community transmission, reduce the burden of quarantine on families, keep kids in schools, and protect everyone from COVID-19.
Anyone eligible but not yet vaccinated against COVID should do so. Vaccination is safe, effective, free, and available at multiple community locations.
For questions, call us at 231-305-8675 or email us at covid@dhd10.org.
ATTENTION REGARDING

BOOSTER DOSES

:
The CDC, MDHHS, and DHD#10 urge all eligible Michiganders to get a booster dose now that the FDA has approved Pfizer, Moderna, and Johnson & Johnson boosters for anyone 18 and up that already received their primary COVID-19 vaccines. Eligible individuals should get booster doses six months after their primary mRNA series or two months after a single dose of Johnson & Johnson.
Eligible individuals may choose which vaccine they receive as a booster dose. Some people may prefer the vaccine type they originally received, and others may prefer to get a different type of booster vaccine. CDC's recommendations now allow for this type of mix and match dosing for booster shots. Consult your healthcare provider if there is a question which vaccine is appropriate for you.
Michiganders should bring their COVID-19 vaccine card or immunization record with them when getting their booster dose, which are available at any vaccine provider. Downloadable immunization records are accessible free at the Michigan Immunization Portal. To obtain their record, Michiganders must create a MILogin account at Michigan.gov/MiImmsportal and upload a valid government issued photo ID such as a driver's license, state ID or passport. If you do not have records in the portal contact your healthcare provider or local health department.
If you meet the above eligibility, you can schedule your booster dose below or call 888-217-3904 for assistance.
ONLINE SCHEDULE
Flu shots are available for anyone 6 months and up
Anyone 5 years old and up can now get the COVID-19 vaccine
All COVID-19 vaccines are available based on specific age groups

Johnson & Johnson

– a 1-dose vaccine and a booster dose are available to anyone 18 and older

Moderna

– a 2-dose vaccine and a booster dose available to anyone 18 and older

Pfizer

– a 2-dose vaccine available to anyone 5 and older, and booster dose for anyone 18 and older

5 to 15 year olds must have parent/guardian present when vaccinated

16 to 17 year olds must have written consent if parent/guardian not present when vaccinated
PLEASE READ CAREFULLY
Schedule below or walk in on clinic days in bold (click on the schedule link in your county and you will see the dates in bold – each county has different clinic days).

Residency is not required.

Anyone can receive their 1st and/or 2nd dose vaccine (even if you received your 1st dose somewhere else).

If getting your 1st dose, you will be scheduled for your 2nd dose at your 1st dose appointment.

Once scheduled, you can change or delete/cancel your appointment online up to the day of your appointment. Click on the link in the confirmation email you receive to make changes if needed. You must enter a valid email to receive a confirmation email.

NEED A VACCINE CARD? Here's what to do:

Patients may contact the facility where they were vaccinated and request either a completed COVID-19 Vaccination Record Card or a print out of their current immunization record from the Michigan Care Improvement Registry – MCIR.
Patients may also download their immunization records for free at https://mdhhsmiimmsportal.state.mi.us/

Both the record card and immunization record are official vaccination records.
What to bring with you:
Driver's License

Insurance Card(s) – the COVID-19 vaccine is FREE. If you have insurance, we will bill it for an administrative fee. If insurance does not pay for it, you will not be billed. There is no out of pocket cost to you.
AVAILABLE DATES ARE IN BOLD. APPOINTMENTS ARE PREFERRED, BUT WALK-INS ARE WELCOME.
THIS PAGE IS UPDATED OFTEN. BE SURE TO REFRESH YOUR PAGE OR CLEAR YOUR BROWSER HISTORY TO SEE THE MOST CURRENT INFORMATION AND DATES.
STEP #1 – Click on the schedule link button below for your county of residence.
STEP #2 – Select a date that is BOLD and pick a time. You can schedule in any county, but you must go to that county for your second dose appointment also.
STEP #3 – Complete the form and select "Complete Appointment". An email is required to receive a confirmation. If you do not have an email, enter NA, but please know you will not receive a confirmation from us.
STEP #4 – The last screen you will see is your appointment date, time, and location. Please add this information to your calendar.
PLEASE NOTE:

If there are no dates available below in the online schedule, please call 888-217-3904.

There are more appointments available than what is shown online.
DHD#10 Office
501 Norway St, Grayling
DHD#10 Office
625 Courthouse Drive, Kalkaska
DHD#10 Office
5681 S. M-37, Baldwin
DHD#10 Office
385 3rd Street, Manistee
DHD#10 Office
916 Diana Street, Ludington
DHD#10 Office
14485 Northland Dr, Big Rapids
DHD#10 Office
6180 W Sanborn Rd, Lake City
DHD#10 Office
1049 Newell, White Cloud
DHD#10 Office
3986 N. Oceana Drive, Hart
DHD#10 Office
521 Cobbs Street, Cadillac