*PLEASE NOTE: There are multiple pages to the dashboard. See the bottom of the dashboard to click on each page.
PAGE #1: Confirmed, Probables, and Deaths – today, cumulative, by age range, and by gender
PAGE #2: Recovered, Recovered by County, Total Cases & Cumulative Cases by Date, Contact Tracing, Confirmed and Probables by Zip Code
PAGE #3: Total Cases by Date by County
PAGE #4: Positive Inpatient Hospitalizations by Date (began 6/3/2020)
COVID-19 Data Dashboard – as of 8/13/2020
Details and information on this Data Dashboard can be found here. Source: Michigan Disease Surveillance System and Vital Records
Weekly DHD#10 COVID-19 Heat Map
Below is a heat map of confirmed and probable positive COVID-19 cases within the District Health Department #10 region. Darker areas, such as red and orange, are associated with higher rates of positive cases while lighter areas, such as green and yellow are associated with lower rates of positive cases. This map shows rates per 10,000 people so if an area is red, it does not mean there are 243.9 positive cases in that area, but rather 2.439% of the population within that area has tested positive for COVID-19. Areas that are not highlighted with any color do not currently have positive cases. Please note: this heat map is updated weekly.
ANNOUNCEMENTS
Public Health Advisory – As of June 10, 2020 for travelers and visitors to northern Michigan.
On July 29, Governor Whitmer issued Executive Order 2020-160 amending Michigan's Safe Start Order, thus prohibiting any indoor social gatherings of more than 10 people statewide. At the same time, the order also closes bars across the state, including in the Traverse City region and the Upper Peninsula. The Governor also issued Executive Order 2020-161 that requires safeguards to protect Michigan's workers from COVID-19. Both are effective July 31, 2020.
Why Doesn't Public Health Publicize All COVID-19 Exposure Sites?
COVID-19 TESTING:
MDHHS has a Test Finder on their website to help you locate places throughout Michigan where you can get a free COVID-19 test. You can also contact your medical provider or call the hotline for your hospital system:
888-535-6136 | MDHHS Patient COVID-19 Hotline
231-935-0951 | Munson Hotline
833-559-0659 | Spectrum Hotline
833-247-1258 | Mercy Health Michigan Hotline
616-685-2683 | Mercy Health Saint Mary's-Grand Rapids Hotline
231-642-5292 |

Northwest Michigan Health Services Testing Hotline
DHD#10 only contacts individuals if their test results come back positive. All other results are followed up by the medical care providers who ordered the tests. If you haven't been contacted by DHD#10 to inform you that you tested positive, please contact your medical care provider for test results.
Prevention Methods:
Clean hands often. Scrub with soap for at least 20 seconds. Use hand sanitizer if soap and water is not available.
Avoid close contact with sick people.
Stay home when you are sick, except to get medical care.
Cover your cough or sneeze with a tissue, then throw tissue away and wash hands immediately.
Wear a face mask when going out in public.
Clean and disinfect surfaces frequently
DRIVE-THROUGH COVID-19 TEST RESULTS
If you attended one of our Free Community Drive-Through Testing Clinics, follow the instructions below to obtain your test results:
Go to bioreference.com/patient-portal

and select

TEST RESULTS

.

Click the

CREATE AN ACCOUNT

button and complete the registration process.

Results may not be available on the patient portal for up to

5-7 days

after collection so please continue to check back regularly.
If you need assistance with the patient portal, email BioReference Laboratories at patientportal@bioreference.com. If you have any questions about your results, please contact your healthcare provider.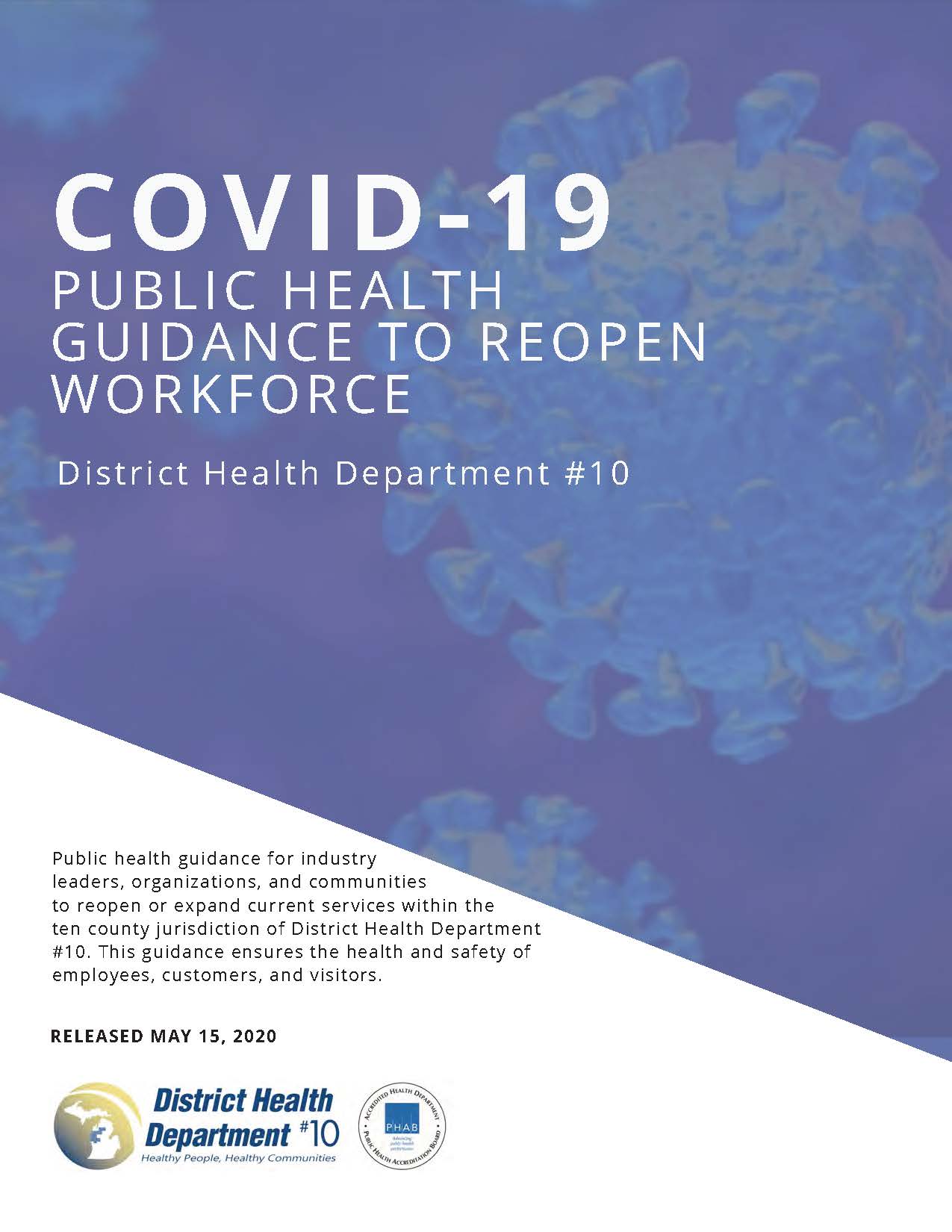 GUIDANCE FOR SCHOOLS
GUIDANCE FOR BUSINESSES


DHD#10 GUIDANCE
MICHIGAN GUIDANCE
UNITED STATES GUIDANCE
Data on the number of cases changes daily. Browse through the links below for current information:
For more information specifically about COVID-19, its symptoms, the spread, and how you can prevent the disease, click here.
All District Health Department #10 offices are closed to the public through June 12, pending the Governor's decision to lift her extended executive order. We are providing emergency services by appointment only and signage is posted at each building to direct those with appointments on what to do when they arrive. Please contact your local DHD#10 office to schedule an appointment.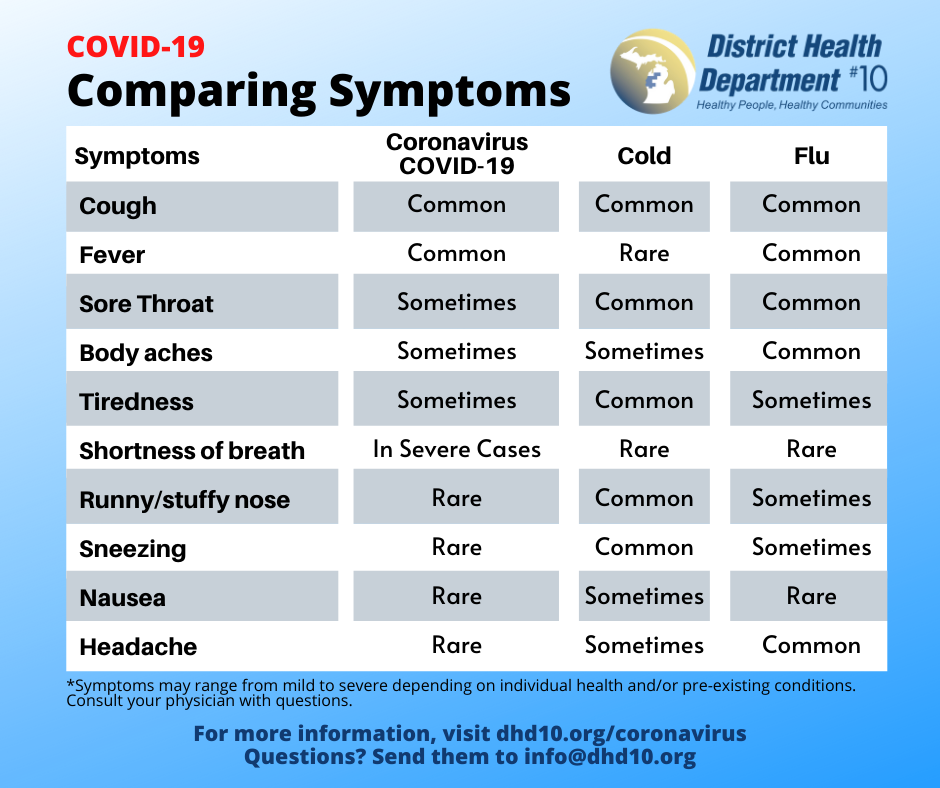 Oceana/Newaygo County Virtual Town Hall
Press Conference regarding Oceana/Newaygo County Cases