CLICK HERE

TO SCHEDULE YOUR COVID-19 VACCINE
ANYONE 16 AND OLDER CAN SCHEDULE ONLINE TO RECEIVE THE COVID-19 VACCINE FROM DHD#10.

INDIVIDUALS AGED 16 AND 17 MUST HAVE A PARENT OR LEGAL GUARDIAN PRESENT WHEN RECEIVING YOUR VACCINE OR WILL BE TURNED AWAY.
CLICK HERE

for our Waitlists, including 2nd Dose and Johnson & Johnson.
IF YOU DO NOT HAVE A COMPUTER, CALL

888-217-3904

FOR ASSISTANCE.
SPECIAL ANNOUNCEMENT
ON THE JOHNSON & JOHNSON VACCINE:
As of 4/13/2021, the Johnson & Johnson vaccine is on hold. Any planned clinics with J&J are postponed until further notice from the CDC, FDA, and the Advisory Committee on Immunization Practices (ACIP). All DHD#10 clinic appointments listed on our scheduling page are for the 2-dose Pfizer or Moderna vaccine only.
COVID-19 DAILY UPDATE
DHD#10 will provide daily and total case counts and deaths each day. We will provide a weekly update each Monday with more detailed data from the previous week. Our Data Dashboard will also be updated each Monday with data from the previous week.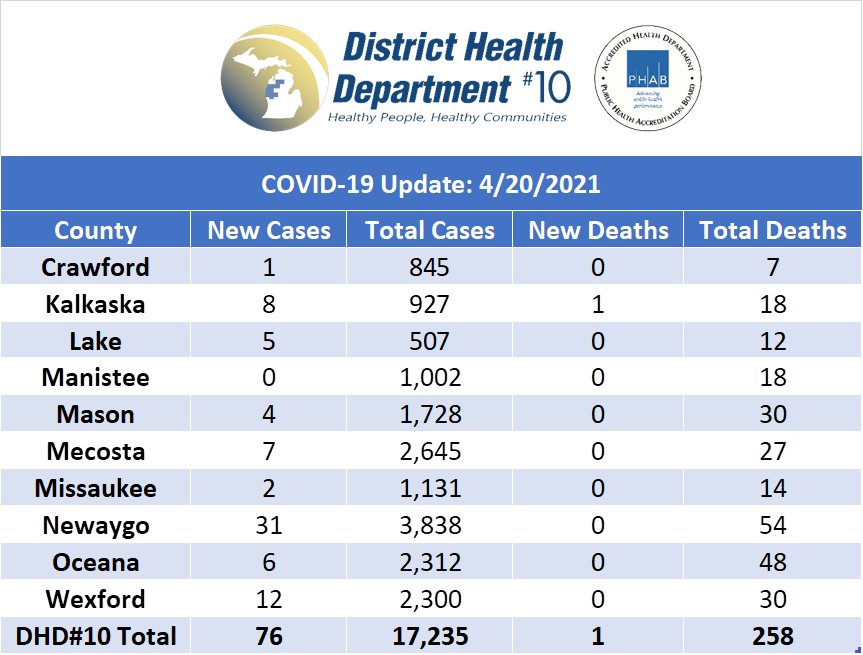 PLEASE NOTE: This update be posted weekly on Mondays summarizing weekly totals.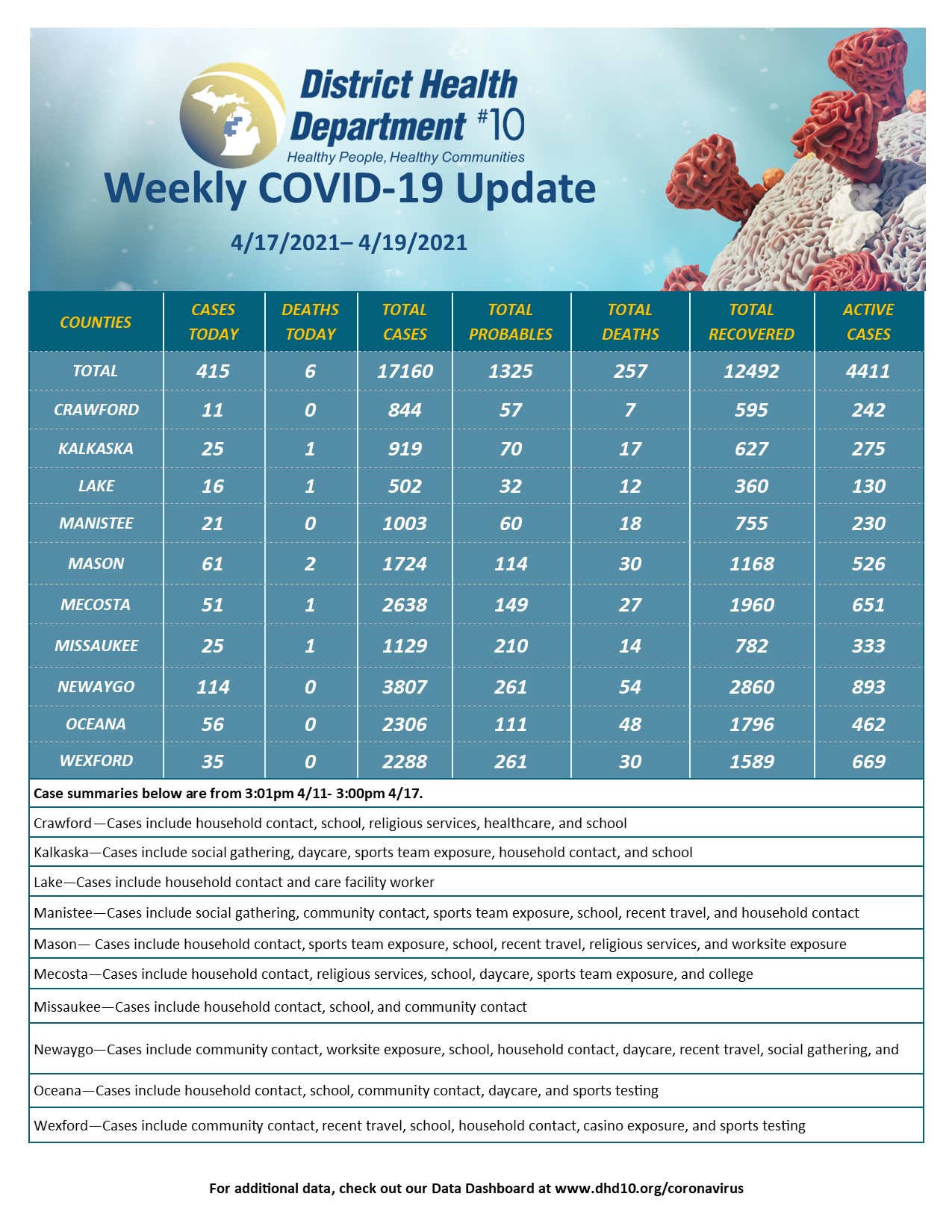 RESIDENTIAL CARE GUIDANCE
EMERGENCY ORDER UPDATES & EXTENSION: On March 19, an update was made to the Gatherings and Face Mask order. This order takes effect on March 22, 2021, at 12:01 AM, at which time the March 2, 2021, order entitled Gatherings and Face Mask Order is rescinded. This order remains in effect through April 19, 2021, at 11:59 PM. Persons with suggestions and concerns are invited to submit their comments via email to COVID19@michigan.gov.  
MDHHS Public Health Orders – Michigan law imposes on the Michigan Department of Health and Human Services (MDHHS) a duty to continually and diligently endeavor to "prevent disease, prolong life, and promote public health," and gives the Department "general supervision of the interests of health and life of people of this state." MCL 333.2221. MDHHS may "[e]xercise authority and promulgate rules to safeguard properly the public health; to prevent the spread of diseases and the existence of sources of contamination; and to implement and carry out the powers and duties vested by law in the department." MCL 333.2226(d).

PUBLIC HEALTH ADVISORY: On Monday, November 23, DHD#10 issued a new Public Health Advisory. This advisory will remain in effect until lifted and replaces all previously issued Public Health Advisories. Persons with questions or concerns are welcome to submit their comments via email to  COVID19@michigan.gov.
COVID-19 TESTING:
MDHHS has a Test Finder on their website to help you locate places throughout Michigan where you can get a free COVID-19 test.  You can also contact your medical provider or call the hotline for your hospital system:
888-535-6136 | MDHHS Patient COVID-19 Hotline
231-935-0951 | Munson Hotline
833-559-0659 | Spectrum Hotline
833-247-1258 | Mercy Health Michigan Hotline
616-685-2683 | Mercy Health Saint Mary's-Grand Rapids Hotline
231-642-5292 |

Northwest Michigan Health Services Testing Hotline

www.kirtland.edu/covid | Kirtland Community College Testing Site, Grayling