PLEASE DO NOT CALL OUR OFFICE TO SEE WHERE YOU FALL ON THE WAITING LIST. YOU WILL BE CONTACTED VIA EMAIL OR PHONE CALL WHEN WE ARE READY TO SCHEDULE YOU.
PLEASE NOTE: COVID-19 numbers are updated Monday – Friday.
Saturday and Sunday numbers are included each Monday.
*2 cases were removed from Manistee and the jurisdiction total.
These changes are reflected in today's totals.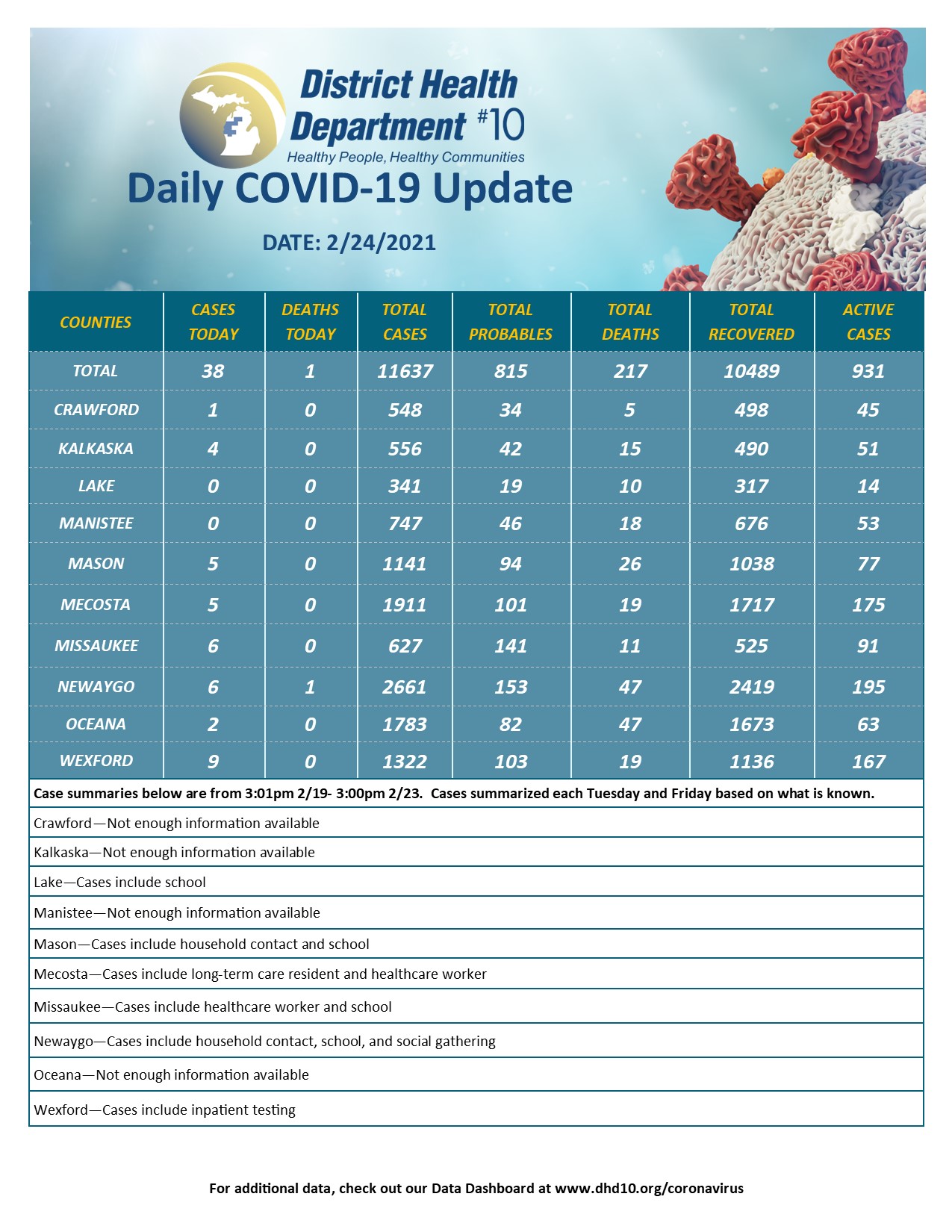 RESIDENTIAL CARE GUIDANCE
EMERGENCY ORDER UPDATES & EXTENSION: On February 4, an update was made to the Gatherings and Face Mask order. This order takes effect on February 8, 2021, at 12:01 AM, at which time the January 22, 2021, order entitled Gatherings and Face Mask Order is rescinded. This order remains in effect through March 29, 2021, at 11:59 PM. Persons with suggestions and concerns are invited to submit their comments via email to COVID19@michigan.gov. Learn more by reading FAQs on the new Gatherings and Face Mask Order.
QUARANTINE NOT REQUIRED FOR VACCINATED PERSONS WITH EXPOSURE TO COVID-19 WHO MEET REQUIREMENTS

The CDC recently updated quarantine guidance for vaccinated individuals. https://www.cdc.gov/vaccines/covid-19/info-by-product/clinical-considerations.html. Vaccinated persons with an exposure to someone with suspected or confirmed COVID-19 are not required to quarantine if they meet all of the following criteria†:

Are fully vaccinated (i.e., ≥2 weeks following receipt of the second dose in a 2-dose series, or ≥2 weeks following receipt of one dose of a single-dose vaccine)

Are within 3 months following receipt of the last dose in the series

Have remained asymptomatic since the current COVID-19 exposure

Persons who do not meet all 3 of the above criteria should continue to follow current quarantine guidance after exposure to someone with suspected or confirmed COVID-19.

Although the risk of SARS-CoV-2 transmission from vaccinated persons to others is still uncertain, vaccination has been demonstrated to prevent symptomatic COVID-19; symptomatic and pre-symptomatic transmission is thought to have a greater role in transmission than purely asymptomatic transmission. Additionally, individual and societal benefits of avoiding unnecessary quarantine may outweigh the potential but unknown risk of transmission, and facilitate the direction of public health resources to persons at highest risk for transmitting SARS-CoV-2 to others. This recommendation to waive quarantine for people with vaccine-derived immunity aligns with quarantine recommendations for those with natural immunity, which eases implementation.

Fully vaccinated persons who do not quarantine should still watch for symptoms of COVID-19 for 14 days following an exposure. If they experience symptoms, they should be clinically evaluated for COVID-19, including SARS-CoV-2 testing, if indicated. In addition, vaccinated persons should continue to follow current guidance to protect themselves and others, including all other SARS-CoV-2 testing recommendations and requirements, and state, territorial, tribal, and local travel recommendations or requirements. For additional considerations regarding quarantine or work restrictions for fully vaccinated healthcare personnel, patients, or residents in healthcare settings, please see section below.

These quarantine recommendations for vaccinated persons, including the criteria for timing since receipt of the last dose in the vaccination series, will be updated when more data become available and additional COVID-19 vaccines are authorized.

† CDC has not systematically evaluated the efficacy of COVID-19 vaccines from manufacturers that have not sought an EUA in the United States. For the purposes of these quarantine criteria, considerations for accepting a vaccination series that is not FDA-authorized include whether the vaccine product has received emergency approval from the World Health Organization or authorization from a national regulatory agency.

Vaccinated healthcare personnel, patients, and residents in healthcare settings

These criteria could also be applied when considering work restrictions for fully vaccinated healthcare personnel with higher-risk exposures, as a strategy to alleviate staffing shortages. Of note, exposed healthcare personnel would not be required to quarantine outside of work.

UPDATED GUIDANCE ON TRAVEL: The CDC recently updated their recommendations for travel, including domestic and international travel.


AFTER ALL TRAVEL, INCLUDING DOMESTIC: quarantine and testing is now recommended.
Please note, this is not mandated but is recommended.

After you travel, You may have been exposed to COVID-19 on your travels. You may feel well and not have any symptoms, but you can still spread the virus to others. You and your travel companions (including children) may pose a risk to your family, friends, and community after your travel.

Get Tested and Stay Home After Travel

Get tested with a viral test 3-5 days after travel AND stay home and self-quarantine for a full 7 days after travel.
Even if you test negative, stay home and self-quarantine for the full 7 days.
If your test is positive, isolate yourself to protect others from getting infected.
If you don't get tested, stay home and self-quarantine for 10 days after travel.
Avoid being around people who are at increased risk for severe illness for 14 days, whether you get tested or not.
Follow all state and local recommendations or requirements after travel.
Take these actions after you return from travel to protect others from getting COVID-19:
Learn more from the CDCs Frequently Asked Questions.
MDHHS Public Health Orders – Michigan law imposes on the Michigan Department of Health and Human Services (MDHHS) a duty to continually and diligently endeavor to "prevent disease, prolong life, and promote public health," and gives the Department "general supervision of the interests of health and life of people of this state." MCL 333.2221. MDHHS may "[e]xercise authority and promulgate rules to safeguard properly the public health; to prevent the spread of diseases and the existence of sources of contamination; and to implement and carry out the powers and duties vested by law in the department." MCL 333.2226(d).

PUBLIC HEALTH ADVISORY: On Monday, November 23, DHD#10 issued a new Public Health Advisory. This advisory will remain in effect until lifted and replaces all previously issued Public Health Advisories. Persons with questions or concerns are welcome to submit their comments via email to COVID19@michigan.gov.
COVID-19 TESTING:
MDHHS has a Test Finder on their website to help you locate places throughout Michigan where you can get a free COVID-19 test. You can also contact your medical provider or call the hotline for your hospital system:
888-535-6136 | MDHHS Patient COVID-19 Hotline
231-935-0951 | Munson Hotline
833-559-0659 | Spectrum Hotline
833-247-1258 | Mercy Health Michigan Hotline
616-685-2683 | Mercy Health Saint Mary's-Grand Rapids Hotline
231-642-5292 |

Northwest Michigan Health Services Testing Hotline

www.kirtland.edu/covid | Kirtland Community College Testing Site, Grayling