Clean drinking water is essential to our health. Unfortunately, water can become contaminated with bacteria found naturally in the environment or with man-made chemicals from industrial waste and fertilizers. That's why regulations are in place to protect human health from unsafe drinking water.
At the federal level, the Environmental Protection Agency (EPA) sets regulations and standards for monitoring and testing drinking water through the Safe Drinking Water Act. In Michigan, the Department of Environmental Quality (DEQ) enforces these standards through the Michigan Safe Drinking Water Act. These regulations are primarily for Community Water Supplies, such as city or municipal water hook ups.
But what about those who have a private well? In Michigan, private wells that serve less than 25 people are not regulated by the Safe Drinking Water Act. This means that it is up to the private well owner to make sure the drinking water is safe. The DEQ does investigate drinking water well contamination, oversees the water well drilling industry, and oversees remedial activities where groundwater contamination has affected private drinking water wells. District Health Department #10 (DHD#10) administers DEQ programs for private wells.
DHD#10 has an in-house drinking water lab located at our Mason County office. We perform drinking water testing and analysis for the bacteria known as coliform, including E. coli, as well as for nitrates, which are man-made chemicals often used in fertilizer. We also can test surface water from lakes, rivers, and streams for E. coli.
HOW IT WORKS
Just stop in to DHD#10 in your area to pick up a water testing kit. You can have both bacterial analysis and chemical analysis performed, or just one or the other.
Bacterial Testing Kit: Cost = $20 – All bacterial testing kits come with a sample bottle and a pre-addressed envelope to mail the sample back.*
Nitrate Testing Kit: Cost = $20 – All nitrate testing kits come with a sample bottle, pre-addressed envelope, gel pack and cooler to send your sample back.*
*If you are performing both the bacterial and the nitrate tests, you can send both sample bottles inside the cooler provided for the nitrate test.
Requirements
Bacterial – Bacterial samples for drinking water must be received within 30 hours of being collected. If more than 30 hours has passed, we cannot run the sample. Bacterial samples for surface water must be received within 8 hours of being collected.
Nitrate – Nitrate samples must be received cold (41 degrees F. or less) and within 48 hours of being collected. The sample has to have an ice (gel) pack with it (provided).
How to Collect a Sample
Before you collect the nitrate sample, be sure that you have already frozen the gel pack that comes with the sample
Remove any aerator (screen) from the water tap. The screens will often be a growth area for bacteria.
Complete the form "Water Laboratory Analysis Request". If you are a Type II or non-community water supply, you must complete the shaded area marked "Public Water System only".
Run the tap for at least 5 minutes. You want fresh water, not water that has been sitting in the water line.  Once the well pump kicks on, you will have fresh water.
Do not touch the inside cap or the inside of the bottle. Your fingers will contaminate the sample.
Fill the bottle up to the 100 ml line – no more, no less – and cap. Do not rinse the bottle. There is a powder inside the bottle which has to stay there.
Immediately mail or deliver the sample to us.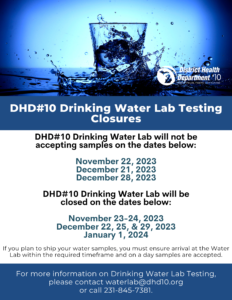 Three Ways to Return Your Sample – Please remember there is a time constraint when mailing samples back!
Drop it Off – You can directly drop the sample off at our Drinking Water Lab located at our Mason County office at 916 Diana Street, Ludington, Monday through Thursday between 8 a.m. and 4 p.m. You can also drop it off at our Crawford, Mecosta, or Wexford County offices and it will be shipped for free to our Water Lab in Mason County. Drop-off days are as follows:

Crawford – Tuesdays by 1:30 PM
Mecosta – Mondays, Tuesdays, and Wednesdays – by 1:30 PM
Wexford – Mondays, Tuesdays, and Wednesdays – by 1:30 PM
NOTE:

We are closed on holidays. Please do not drop off a sample on a holiday or the day before a holiday.

Use Priority Mail – You can mail the samples back using Priority Mail (cost is typically $6.50 to $7.50), but please keep in mind that Priority Mail has a delivery time of one to three days. We must receive the bacterial water sample within 30 hours of collection or it will be discarded.
Overnight it – RECOMMENDED – If you suspect that it will take longer than 30 hours to arrive to us, please consider using Priority Mail Express which is overnight delivery (cost is typically $23.75 to $25).
Your Results
DHD#10 will mail your results to you once finalized and also keep a copy for our files.
Other Laboratories
You can have your water tested using outside water labs, but please be sure that the lab you choose is certified by the State of Michigan. Please be aware of the following:
Each laboratory has its own set of bottles. You cannot use our sampling bottles for another laboratory.  Whatever laboratory you use, you have to obtain their bottles.  If you are not going to use our bottles, please return them.
All laboratories will have the same requirements for sampling – bacterial samples needed within 30 hours of collection and nitrates must be received cold.
Most of the private laboratories do not have mail service. The samples have to be dropped off.
Few of the laboratories will share the test results with us.  Therefore, when you obtain them, please make a copy and send it to the District Health Department #10 office in your county.
Below is a list of private and public laboratories certified by the State of Michigan to perform drinking water testing:
Private Laboratories
SOS Analytical, 4125 Cedar Run, Suite #B, Traverse City, MI 49684, (231) 946-6767
Raven Analytical Laboratories, 104 ½ 1st St., Roscommon, MI 49653, (989) 275-4790
Great Lakes Water Quality Lab, 6461 Sunset Dr., Lake Ann, MI 49650, (231) 275-7382
Public Laboratories
Northern Michigan Regional Lab, 95 Livingston Blvd., Gaylord, MI 49735, (800) 432-4121
State of Michigan Drinking Water Laboratory, 3350 N. Martin Luther King Jr. Blvd., Lansing, MI 48909, (517) 335-8184
City of Hart Public Works, 407 State St., Hart, MI 49420, (231) 873-3100
Ludington Water Treatment Plant, 501 N. Lakeshore Ave., Ludington, MI 49431, (231) 843-8830
Cadillac Wastewater Treatment Plant, 1121 Plett Rd., Cadillac, MI 49601, (231) 775-2368
Kent County Health Department Laboratory, 700 Fuller Ave., NE, Grand Rapids, MI 49503, (616) 632-7210