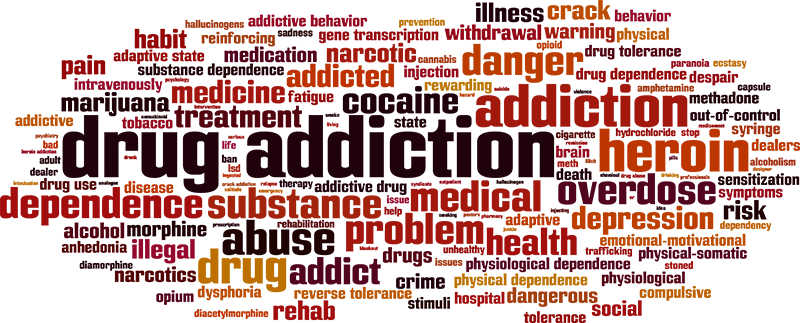 If you or someone you know is struggling with a drug or alcohol problem, help is available! You have options, including counselors, doctors, and in-patient treatment centers. Reaching out for help is the most important first step.
Signs of a Substance Use Problem or Addiction
Changes in appetite or sleep patterns
Deterioration of personal hygiene or appearance
Frequent, unexplained bruises or other injuries
Skipping class or declining grades
Sudden change in relationships and friends
Missing money / stealing
Sudden mood changes – irritability or outbursts
Appearing withdrawn, anxious or paranoid
Resources
Facts and Stats https://www.justthinktwice.gov/facts
Tips for Parents - Teen Parties
Drunk/Impaired Driving
Driving after drinking is deadly, yet it continues to happen. Every day, about 32 people in the United States die in drunk-driving crashes — that's one person every 45 minutes.  Annually, drunk driving crashes cost the US $44 billion.  Drunk driving crashes are preventable!
HOW DOES ALCOHOL IMPACT OUR BRAIN/BODY?
Alcohol is a substance that reduces the function of the brain, impairing thinking, reasoning and muscle coordination. All these abilities are essential to operating a vehicle safely.
Alcohol is absorbed directly through the walls of the stomach and small intestine. Then it passes into the bloodstream where it accumulates until it is metabolized by the liver. A person's alcohol level is measured by the weight of the alcohol in a certain volume of blood. This is called Blood Alcohol Concentration, or BAC. At a BAC of .08 grams of alcohol per deciliter (g/dL) of blood, crash risk increases. Because of this risk, it's illegal in all 50 states, the District of Columbia and Puerto Rico to drive with a BAC of .08 or higher, except in Utah where the BAC limit is .05.
THE EFFECTS OF BLOOD ALCOHOL CONCENTRATION
BLOOD ALCOHOL CONCENTRATION (BAC) IN G/DL ON DRIVING

TYPCIAL EFFECTS

PREDICTABLE EFFECTS

.02

Some loss of judgement
Relaxation
Slight body warmth
Altered mood

Decline in visual functions (rapid tracking of a moving target)
Decline in ability to perform two tasks at the same time (divided attention)

.05

Exaggerated behavior
May have loss of small-muscle control (e.g., focusing your eyes)
Impaired judgment
Usually good feelings
Lowered alertness
Release of inhibition

Reduced coordination
Reduced ability to track moving objects
Difficulty steering
Reduced response to emergency driving situations

.08

Muscle coordination becomes poor (e.g., balance, speech, vision, reaction time, and hearing)
Judgement, self-control, reasoning and memory are impaired

Concentration
Short-term memory loss
Speed control
Reduced information processing capability (e.g., signal detection, visual search), impaired perception

.10

Clear deterioration of reaction time and control
Slurred speech
Poor coordination
Slowed thinking

Reduced ability to maintain lane position and brake appropriately

.15

Far less muscle control than normal
Vomiting may occur (unless this level is reached slowly or a person has developed a tolerance for alcohol
Major loss of balance

Substantial impairment in vehicle control, attention to driving task, and in necessary visual and auditory information processing
Table describing BAC and typical effects of various BAC levels
THE CONSEQUENCES OF DRINKING AND DRIVING
Drinking and driving is a dangerous crime.  Those caught drinking and driving face jail time and many legal fees. On average, a DUI can set you back $10,000 in attorney's fees, fines, court costs, lost time at work, higher insurance rates, car towing, and more. And, drinking and driving can result in losing your driver's license and your car, further impacting your future.
For more information about Michigan laws regarding drinking and driving visit: https://www.michigan.gov/msp/divisions/ohsp/child-passenger-safety/impaired-driving/impaired-driving-law
BE A RESPONSIBLE DRIVER: IF YOU ARE DRINKING, DO NOT DRIVE.
The most effective way to stop drunk driving is to prevent it from happening.  We all share the roads and must all work together to keep them safe.  Making responsible decisions not only ensures our safety, but the safety of others on the road.
OTHER TIPS TO PREVENT DRUNK DRIVING AND KEEP YOU AND OTHERS SAFE:
Plan your safe ride home before you start the party, choose a non-drinking friend as a designated driver.
If someone you know has been drinking, do not let that person get behind the wheel. Take their keys and help them arrange a sober ride home.
If you drink, do not drive for any reason. Call a taxi, a ride-hailing service, or a sober friend.
If you're hosting a party where alcohol will be served, make sure all guests leave with a sober driver.
Never feel pressured to drink alcohol.
Always wear your seat belt — it's your best defense against impaired drivers.
If you see an impaired driver on the road, contact local law enforcement. Your actions could help save someone's life.
Want to calculate your BAC, use the Virtual Bar: https://www.responsibility.org/drink-responsibly/bac-calculator/
For other information on drinking and driving visit: https://www.nhtsa.gov/risky-driving/drunk-driving
Prescription Drugs
Marijuana
Marijuana Fact Sheet

Marijuana Information

Preventing Marijuana Use Among Youth and Young Adults

The Negative Health Effects of Marijuana Use 
Marijuana Concentrates
What You Should Know About Marijuana Concentrates/Honey Butane Oil

The Facts About Marijuana Concentrates
Publications (Marijuana)
April 14, 2017 Regularly Using Marijuana as a Teen Slows Brain Development

April 26, 2017 Teens Tend to Think Marijuana Use is No Big Deal, But They're Wrong
Synthetic Drugs/Emerging Drugs
About Synthetic Drugs

DEA Consumer Alert

K2/Synthetic Marijuana K2/Spice Fact Sheet

Bath Salts Fact Sheet

Flakka Fact Sheet

Pink/U-47700 Fact Sheet

Carfentanil Fact Sheet

Gray Death Fact Sheet
Heroin
Heroin Fact Sheet
Cocaine
Cocaine Fact Sheet
Inhalants
Inhalant Fact Sheet
Methamphetamine
Methamphetamine Fact Sheet
Ecstasy/MDMA
Ecstasy/MDMA Fact Sheet
Amphetamines
Amphetamines Fact Sheet
Take Back Your Meds
Disposing of your medicines at a local pharmacy or law enforcement office can help prevent prescription drug abuse. By properly disposing unused, unwanted, or expired medications you can ensure medicines will not be stolen from the garbage, will not enter our environment, and prevent abuse and overdoses at home.
Prime for Life
Prime for Life is a highly effective program designed to help youth and young adults reduce high risk choices in regards to drugs and alcohol. This program addresses participants current beliefs, attitudes, perceptions of risk, and motivators. This program is available at no cost to Mason and Oceana County residents ages 12-25.
Program Participants:
Age 12-25
Suspected of using drugs or alcohol
Making high risk choices that could lead to drug use
First time DUI or MIP charge
Experiencing other legal issues related to drug use
For more information, contact the following DHD#10 Health Educators:
Mason – Katie Miller (231) 316-8567
Oceana – Kortni Garcia (231) 902-8539
Mobilizing Michigan: Protecting Our Kids from Marijuana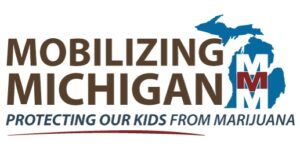 Mobilizing Michigan is a research-based campaign to educate all sectors of the community about the dangers of youth marijuana use.
There's much talk about medical marijuana and legalization of marijuana for "recreational" use, however, there seems to be very little focus on the many negative consequences of youth use.
Let's start the conversation in our communities.
To learn more about Mobilizing Michigan: Protecting Our Kids From Marijuana or to schedule an educational presentation in Wexford or Missaukee Counties, contact Angie Gullekson at 231-876-3813 or agullekson@dhd10.org.
School Personnel
Below is an infographic that you may find informative and useful.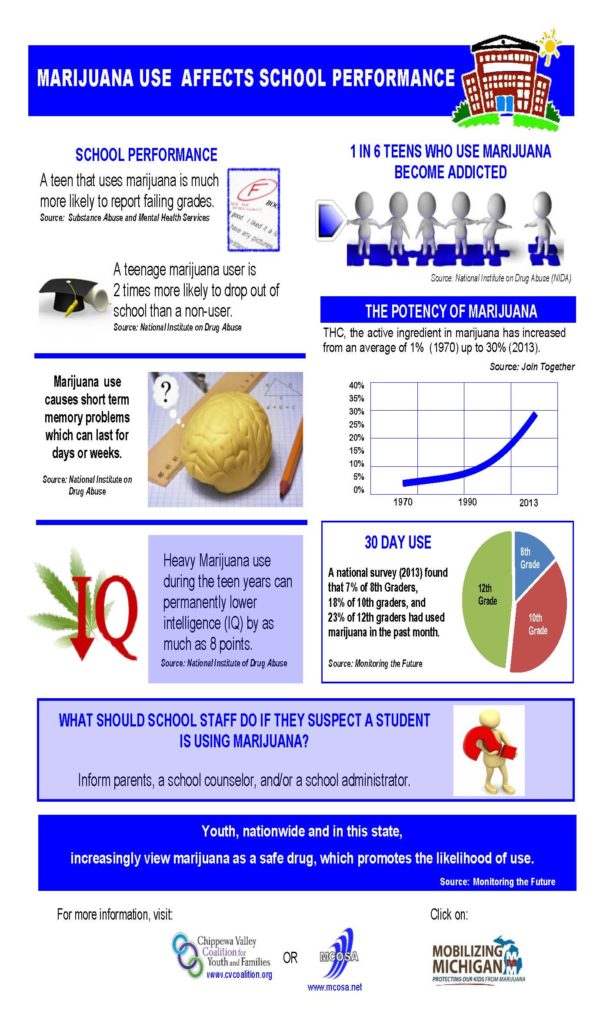 Parents/Grandparents
Below are some resources to help you learn more about youth and marijuana.
Let's Look at the Research
Parents – Talk to Your Children About Marijuana
The Truth About Marijuana and School Achievement
Clearing the Smoke About Marijuana