Cervical Cancer Awareness Month (January, 2023)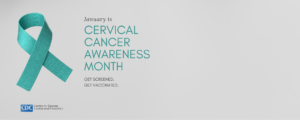 Key facts
According to the CDC:
You can lower your risk for cervical cancer by getting screened regularly, starting at age 21.
The HPV test and the Pap test are screening tests that can help prevent cervical cancer or find it early.
The HPV vaccine protects against the types of HPV that most often cause cervical cancers. HPV can also cause other kinds of cancer in both men and women.
In 2020, an estimated 604,000 women were diagnosed with cervical cancer worldwide and about 342,000 women died from the disease. The main cause of cervical cancer is persistent infection with high-risk types of human papillomavirus (HPV), an extremely common family of viruses that are transmitted through sexual contact. Vaccines exist that protect against high-risk HPV types, and screening programs can detect signs of disease at an early stage, allowing for effective treatment and management of the condition. This means that cervical cancer should be one of the most preventable and treatable forms of cancer. In many high-income countries, this is the case. High incidence rates and high mortality rates of cervical cancer occur mainly (~90% for both) in low- and middle-income countries.
HPV Vaccine
HPV vaccination is recommended for preteens aged 11 to 12 years but can be given starting at age 9.
HPV vaccine also is recommended for everyone through age 26 years if they are not vaccinated already.
HPV vaccination is not recommended for everyone older than age 26 years. However, some adults age 27 through 45 years who are not already vaccinated may decide to get the HPV vaccine after speaking with their doctor about their risk for new HPV infections and the possible benefits of vaccination. HPV vaccination in this age range provides less benefit, as more people have already been exposed to HPV.
HPV vaccination prevents new HPV infections but does not treat existing infections or diseases. This is why the HPV vaccine works best when given before any exposure to HPV. You should get screened for cervical cancer regularly, even if you received an HPV vaccine. To schedule, call 888-217-3904.
Quick Links:
CDC | Cervical Cancer Awareness
National Cervical Cancer Coalition (NCCC)
American Sexual Health Association (ASHA)