Great American Smokeout – November 17, 2022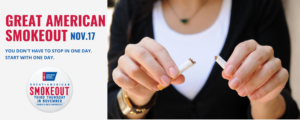 Key Facts
According to the American Cancer Society:
It's never too late to quit using tobacco. The sooner you quit, the more you can reduce your chances of getting cancer and other diseases.
Quitting smoking lowers your risk of other cancers over time as well, including cancers of the stomach, pancreas, liver, cervix, and colon and rectum, as well as acute myeloid leukemia (AML).
Quitting smoking can also add as much as 10 years to your life, compared to if you continued to smoke.
Quitting smoking isn't easy. It takes time. And a plan. You don't have to stop smoking in one day. Start with day one. Let the Great American Smokeout event on the third Thursday in November be your day to start your journey toward a smoke-free life. You'll be joining thousands of people who smoke across the country in taking an important step toward a healthier life and reducing your cancer risk. Plus, the American Cancer Society can help you access the resources and support you need to quit.
In recognition of the Great American Smokeout, District Health Department #10 is encouraging community members that are thinking about quitting to start with day one. "You don't have to quit in one day," said Lacey Morris, Tobacco Treatment Specialist for DHD#10. "All you need to do is start with day one and move from there. The Great American Smokeout is a great reminder that tobacco users have various avenues of resources and support in their efforts to quit."
Ask your health care providers or your local health department about local resources that may help. Check out the Michigan Tobacco Quitline (1-800-784-8669) that can offer free counseling to those who qualify.
For more information about the Michigan Tobacco Quitline or local resources in your area please visit https://www.livewell4health.org/tobacco-cessation or contact your local health department office.
For information about the Great American Smokeout visit https://www.cancer.org/healthy/stay-away-from-tobacco/great-american-smokeout.html
Quick Links
DHD#10 – Healthy Lifestyle
LiveWell – Tobacco Cessation
Michigan Tobacco Cessation
CDC – Quit Smoking
Benefits of Quitting Smoking Over Time