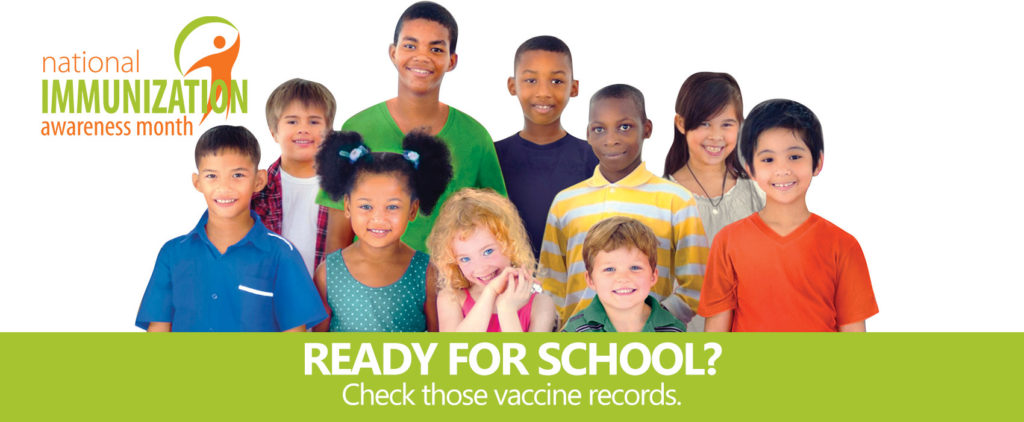 August is National Immunization Month, a time to highlight the importance of vaccination for people of all ages.  With school quickly approaching, it's time to check immunizations records to see if your kids are up to date.
In Michigan, before a child can attend kindergarten, seventh grade, childcare, or enroll in a new school district, parents or guardians are required to produce documentation that confirms their child has either received the school-required immunizations, has received at least one dose of each of the required immunizations and is awaiting receipt of subsequent doses, or has a waiver.
Vaccines protect us from dangerous preventable diseases like Chickenpox, Flu, Hepatitis, Measles, Mumps, Meningococcal, Pneumonia, Shingles, Pertussis (whooping cough), Polio and more.  Vaccines not only help protect us and those we love from getting these diseases, they also help prevent spreading diseases to those that are unvaccinated.
The Centers for Disease Control and Prevention estimates that for children born in the U.S. from 1994 to 2013, vaccination will prevent an estimated 322 million illnesses, 21 million hospitalizations and 732,000 deaths over the course of their lifetimes.
Vaccines have dramatically changed medicine over the last century. Before vaccines, parents in the United States could expect that every year:
Polio would paralyze 10,000 children.
Pertussis (whooping cough) would kill 8,000 infants.
Measles would infect about 4 million children, killing about 500.
Rubella (German measles) would cause birth defects and intellectual disabilities in as many as 20,000 newborns.
Diphtheria would be one of the most common causes of death in school-aged children.
A bacterium called Haemophilus influenzae type b (Hib) would cause meningitis in 15,000 children, leaving many with permanent brain damage
Immunizations are not just for children.  Protection from some childhood vaccines can wear off over time. Adults may also be at risk for vaccine-preventable disease due to age, job, lifestyle, travel, or health conditions.
Babies & Children
Vaccines give parents the safe, proven power to protect their children from 14 serious diseases before they turn 2 years old.
Vaccinating your children according to the recommended schedule is one of the best ways you can protect them from 14 harmful and potentially deadly diseases like measles and whooping cough (pertussis) before their second birthday.
Children who don't receive recommended vaccines are at risk of (1) getting the disease or illness and (2) having a severe case of the disease or illness. You can't predict or know in advance if an unvaccinated child will get a vaccine-preventable disease, nor can you predict or know how severe the illness will be or become.
Vaccines don't just protect your child. Immunization is a shared responsibility. Families, health care professionals and public health officials must work together to help protect the entire community – especially babies who are too young to be vaccinated themselves.
School-Age Children
Many vaccine-preventable diseases can easily spread in child care and school settings. Protecting your children from preventable diseases will help keep them healthy and in school.
Schools are prone to outbreaks of infectious diseases, and school-age children can further spread disease to their families and others with whom they come in contact.
When a child comes down with an illness such as whooping cough, chickenpox or the flu, he or she may miss at least several days of school while recovering – and somebody will need to stay home to provide care and make trips to the doctor.

Children can spread diseases to newborns too young to have received all doses of recommended vaccines, or to people with weakened immune systems, such as some people with cancer and transplant recipients who are also at higher risk of disease.

Most people in the United States are protected against measles through vaccination, so measles cases in the U.S. are uncommon compared to the number of cases that occurred before a vaccine was available.

However, measles is brought into the United States every year by unvaccinated travelers who get measles while they are in other countries. Most measles cases imported into the U.S. come from U.S. residents. They can spread measles to other people who are not protected against measles, which sometimes leads to outbreaks. This can occur in communities with unvaccinated people.
Since measles was declared eliminated in the United States in 2000, the annual number of people reported to have measles ranged from a low of 37 people in 2004 to a high of 667 people in 2014. In 2016, there were 70 provisionally reported cases.
Preteens & Teens
Vaccines are important for protecting children from diseases and ensuring a healthy future.
Vaccination is one of the best ways parents can protect infants, children, and teens from 16 potentially harmful diseases. Vaccine-preventable diseases can be very serious, may require hospitalization, or can even be deadly — especially in infants and young children.
Preteens and teens need four vaccines to protect against serious diseases:

Meningococcal conjugate vaccine to protect against meningitis and blood infections (septicemia).
HPV (human papilloma virus) vaccine to protect against cancers caused by HPV.
Tdap vaccine to protect against tetanus, diphtheria, and whooping cough (pertussis).
A yearly flu vaccine to protect against seasonal flu
Teens and young adults may also be vaccinated with a serogroup B meningococcal vaccine.
Pregnant Women
Get off to a healthy start by making sure your immunizations are up to date before becoming pregnant.
Before becoming pregnant, you should be up to date on all routine vaccinations. Vaccines help protect you and your child from preventable diseases, such as rubella.
If you need live vaccines, you need to get them at least one month before pregnancy. Vaccines received during pregnancy should be inactivated (the viruses or bacteria in the vaccine are killed rather than weakened).
It is very important that you are up to date on your measles-mumps-rubella (MMR) vaccine before becoming pregnant. Rubella infection during pregnancy can cause miscarriage, stillbirth, or birth defects in the developing baby.

You can have a pre-pregnancy blood test to see if you are immune to rubella. If you aren't immune to rubella, you will need the MMR vaccine.
If you need an MMR vaccine, you should avoid becoming pregnant for one month after receiving the vaccine.
 There are two vaccines routinely recommended during pregnancy: flu (to protect against influenza) and Tdap (to protect against whooping cough).
Pregnant women can get a flu shot at any time during their pregnancy. It is safe for a pregnant woman to get a flu shot (i.e., made with killed flu virus).

Significant flu season activity may begin as early as October and last as late as May. You should get a flu shot by the end of October, if possible.
Women should get a tetanus, diphtheria, and acellular pertussis (whooping cough) vaccine (Tdap) during each pregnancy.

Women should receive the vaccine between 27 and 36 weeks of pregnancy for the best whooping cough protection to be passed on to the baby before birth.
This vaccine is important to help protect young babies from whooping cough until they are able to receive their own vaccines at 2 months old.
Many vaccine-preventable diseases, rarely seen in the United States, are still common in other parts of the world. A pregnant woman planning international travel should talk to her health care professional about travel vaccines.
Vaccines protect you against serious diseases and prevent you from passing diseases on to your baby.
Pregnant women are at high risk of serious flu complications. They are more likely to become severely ill with the flu than women who are not pregnant.

Having the flu while pregnant increases your chances for serious problems with your pregnancy, including premature labor and delivery.
Getting a flu shot is the best way to protect yourself from the flu and prevent possible flu-related pregnancy complications. A flu shot can protect a pregnant ­­­woman and her baby against the flu.
Whooping cough can lead to serious complications or be deadly for babies.

Whooping cough can cause serious and sometimes life-threatening complications in babies, especially during the first six months of life.
About half of babies younger than 1 year old who get whooping cough end up in the hospital.
Getting the whooping cough vaccine early in your third trimester will allow the greatest number of antibodies to be passed on to your baby.
Studies from the United Kingdom have shown whooping cough vaccination during pregnancy to be at least 90% effective in preventing whooping cough in babies younger than 2 months of age.
Studies also show babies who get sick with whooping cough are significantly less likely to need treatment in the hospital if their mothers
Adults
Vaccines are recommended for adults to prevent serious diseases such as influenza (flu), shingles, pneumonia, hepatitis, and whooping cough.
Older adults and adults with certain chronic conditions are at increased risk for serious complications from vaccine-preventable diseases.
Many of these diseases are common in the U.S., and all adults – even healthy adults – can benefit from vaccination.
Some vaccines can help prevent cancer. Hepatitis B vaccine can prevent liver cancer that can develop after developing chronic hepatitis B. The HPV vaccine can prevent cancers caused by HPV infection, including cervical, vaginal, vulvar and anal cancers.
Vaccination is important because it not only protects the person being vaccinated, but also helps prevent the spread of diseases to others – especially those who are most vulnerable to serious complications, such as young children, older people, and people with certain chronic conditions or weakened immune systems.
Most adults have probably not received all the vaccines they need.
Unfortunately, far too few adults are receiving the recommended vaccines, leaving themselves and their loved ones vulnerable to serious diseases.
According to CDC data,:

Only 20% of adults 19 years or older had received Tdap vaccination. – National Health Interview Survey 2014
Only 28% of adults 60 years or older had received shingles (herpes zoster) vaccination. – National Health Interview Survey 2014
Only 20% of adults 19 to 64 years at increased risk had received pneumococcal vaccination. – National Health Interview Survey 2014
Only about 44% of adults 18 years or older received a flu vaccine during the 2014-2015 flu season. – Behavioral Risk Factor Surveillance System 2014-2015
Health care professionals play a critical role in educating their patients about recommended vaccines and ensuring that they are fully immunized.
CDC asks ALL health care professionals – whether they provide immunization services or not – to routinely assess the vaccine needs of their patients and make a strong recommendation for needed vaccinations.
Adults should talk with their health care professional to learn which vaccines are recommended for them, and take steps to get up to date.
Contact District Health Department #10 to find out if you and your family are up to date on all immunizations.  If not, schedule an appointment to get caught up.  Call 888-217-3904.
Quick Links
DHD#10 – Immunizations Teens
DHD#10 – Immunizations Adults
DHD#10 – Parents & Families
Michigan Vaccine Information: IVACCINATE
CDC: Vaccines & Immunizations