National Influenza Vaccination Week – December 5-9, 2022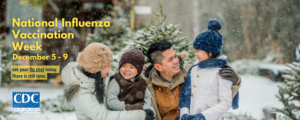 Key Facts
According to the CDC:
Influenza (Flu) is a contagious respiratory illness caused by influenza viruses that infect the nose, throat, and lungs.  It can cause mild to severe illness, and at times can lead to death.
Flu viruses spread year-round, and peaks between December and February
Flu viruses can be detected in most infected persons beginning one day before symptoms develop and up to five to seven days after becoming sick. People with flu are most contagious in the first three to four days after their illness begins.
The most important step in preventing flu is to get a flu vaccine each year.
This holiday season, spread cheer, not flu
The holiday season is here. That means more time to spend with your children, family, and friends. However, as holiday cheer spreads, so can flu, with potentially serious complications. Getting a flu vaccine is the best way to stay protected against flu.
National Influenza Vaccination Week (NIVW) is an annual observance in December to remind everyone 6 months and older that there's still time to get vaccinated against flu. Vaccination is particularly important for people who are at higher risk of developing serious flu complications, including young children. Millions of children get sick with flu every year, and thousands will be hospitalized as a result.
Since flu viruses are constantly changing and protection from vaccination decreases over time, getting a flu vaccine every year is the best way to prevent flu. ​Flu vaccines are the only vaccines that protect against flu and are proven to reduce the risk of flu illness, hospitalization, and death.
There's still time for you and your loved ones to get vaccinated; get your flu vaccine today. You can schedule your flu vaccine with District Health Department #10 online at https://www.dhd10.org/schedule or by calling 888-217-3904.
Additional information about the seriousness of flu and the benefits of flu vaccination can be found on the CDC website or call CDC at 1-800-CDC-INFO.
Quick Links
CDC – National Influenza Vaccination Week
CDC – Influenza (Flu)