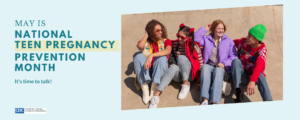 National Teen Pregnancy Prevention Month
Key Facts
According to the Centers for Disease Control and Prevention (CDC):
The US teen birthrate has been steadily declining since 1991.

A record decrease in teen births was recorded from 2018-2019.

While the teen birthrates between 2018-2019 were unchanged for non-Hispanic Indian/Alaska Natives, non-Hispanic Asians, non-Hispanic Native Hawaiians, and other Pacific Islander teens, there was a:

5.8% decrease among non-Hispanic White females
5.2% decrease among Hispanic females
1.9% decrease among non-Hispanic Black females

Pregnancy and birth are significant contributors to high school dropout rates among women, as well as lower school achievement and increased risk of health issues, incarceration, and unemployment.
When young males are included in contraceptive decision making, studies show an increase in effective methods of pregnancy and STI prevention.

Teen fathers attend fewer years of school and are less likely to graduate high school than their peers.
Each May, the CDC, District Health Department #10 (DHD#10), and many other organizations across the nation, turn their attention to National Teen Pregnancy Prevention Month. Over 20 years, much has been accomplished, but much more progress still needs to be made, including decreasing racial/ethnic and geographic disparities in teen birth rates. Even though the US can be proud of its accomplishments, it still has one of the highest teen pregnancy rates in the world.
Prevention is import because pregnancy and childbearing create significant short and long-term costs both socially and economically for teen parents and their children. For example, about 50% of teen mothers receive a high school diploma by the age of 22.
For women that did not give birth during their teen years, their graduation rate was 90%.
It is important to engage and include young men in promoting reproductive health. Involving young men in contraceptive decision making has shown an increase in the use effective methods of pregnancy and STI prevention.
Help your teen make healthy choices about sex. Sexual development is a normal part of the teen years. Your teens needs your help in understanding their feelings, peer pressure, and how to say no if they do not want to have sex. If your teens start having sex, they need to know how to prevent pregnancy and sexually transmitted diseases.
Parents have a strong impact on whether a teenager makes healthy decisions for himself or herself. This goes for making healthy decisions about sex, as well. Research shows that teens who talk with their parents about sex, relationships, birth control and pregnancy—
Begin to have sex at later age.
Use condoms and birth control more often if they do have sex.
Have better communication with romantic partners.
Have sex less often.
Join the CDC and DHD#10 in raising awareness to the disparities caused by teen pregnancy and the prevention efforts to help our teens! DHD#10 can help with information about birth control options, sexual health exams, STI and HIV testing, and pregnancy testing!
Quick Links
CDC | National Teen Pregnancy Prevention Month
CDC | Reproductive Health: Teen Pregnancy