World AIDS Day – December 1, 2022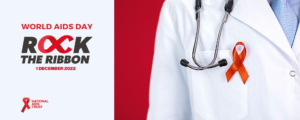 Key Facts
According to the CDC:
Nearly 40% of new HIV infections are transmitted by people who don't know they have the virus. For people with undiagnosed HIV, testing is the first step in maintaining a healthy life and preventing HIV transmission.
Routine HIV screening of adults, adolescents, and pregnant women in health care settings is recommended.
CDC recommends that everyone between the ages of 13 and 64 get tested for HIV at least once as part of routine health care.
This year's theme for World AIDS Day is "Rock the Ribbon." The National AIDS Trust is committed to stopping new cases of HIV, securing the rights of people living with HIV, and fighting HIV stigma and discrimination. People living with HIV are at the heart of what we do, and this year's World AIDS Day campaign is no different. We're celebrating the diverse group of people who make up this community and celebrating the HIV allies who stand shoulder to shoulder with them and fight for HIV rights.
We have a once in a lifetime opportunity to end the HIV epidemic for good, but we must also continue fighting the stigma still experienced by people living with HIV. Your support can help us realize our vision of a future where HIV is no barrier to health or equality.
Visit DHD#10's Sexual Health Website for more information: https://www.dhd10.org/sexualhealth/.
District Health Department #10 provides free, rapid HIV testing and at-home testing kits. These tests are available year-round. Services are confidential, LGBTQ friendly, and no one will ever be denied service due to inability to pay. Call 888-217-3904, option #2 to make an appointment at your local DHD#10 office. At-home testing kits are available at https://www.dhd10.org/sexualhealth/.
Quick Links