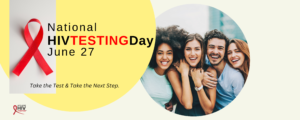 National HIV Testing Day – June 27, 2023
Key Facts
According to the Centers for Disease Control and Prevention (CDC):
In 2021, 36,136 people received an HIV diagnosis in the United States and dependent areas. The annual number of new diagnoses decreased 7% from 2017 to 2021.
An estimated 1.2 million people in the United States had HIV at the end of 2021.
About 87% knew they had HIV.
Most cases of HIV occur in metropolitan areas with 500,000 or more people.
Most people who have HIV and are seeking treatment get control of the virus within 6 months.
After treatment, if you have an undetectable viral load you will not transmit HIV through sex and can help reduce the risk of transmission through needle or syringe sharing.
National HIV Testing Day, June 27, 2023
Every year, on June 27th, HIV.gov promotes National HIV Testing Day to highlight and encourage HIV testing! This years' theme is "Take the Test & Take the Next Step," this theme emphasizes that knowing your HIV status helps you choose options to stay healthy. Be sure to follow us as we engage with the hashtags #HIVTestingDay and #StopHIVTogether to help promote National HIV Testing Day.
DHD#10 offers free HIV self-test kits that you can order online: https://www.dhd10.org/hivtest/. DHD#10 also provides rapid HIV testing year-round, call 888-217-3904 to schedule, walk-ins are also welcome.
Quick Links