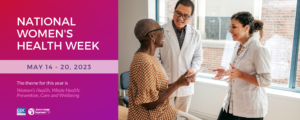 National Women's Health Week – (May 14 – 20, 2023)
Each year, starting on Mother's Day, National Women's Health Week begins. This is a time to encourage women and girls to take control of their health. This year's theme is  "Women's Health, Whole Health: Prevention, Care and Wellbeing." The Centers for Disease Control and Prevention (CDC), the US Department of Health and Human Services' (HHS) Office on Women's Health (OASH), and District Health Department #10 (DHD#10) encourage girls and women take care of themselves and make their health a priority.
What can women do to prioritize their health?
Talk with their healthcare providers.

Regular check-ups, exams, and screenings are important.

Enjoy a healthy and balanced diet.
Get active.
Prioritize their mental health and learn to cope with stress.
Practice healthy behaviors such as getting enough sleep and avoiding distracted driving.
DHD#10 is here to help. Several services are available such as breast and cervical cancer screenings, diabetes prevention programs, tobacco cessation programs, birth control, sexual health services, and immunizations. To learn more, visit www.dhd10.org or call 888-217-3904.
Quick Links
CDC | National Women's Health Week
CDC | Women's Health
OASH – National Women's Health Week
DHD#10 Men and Women Immunizations Info